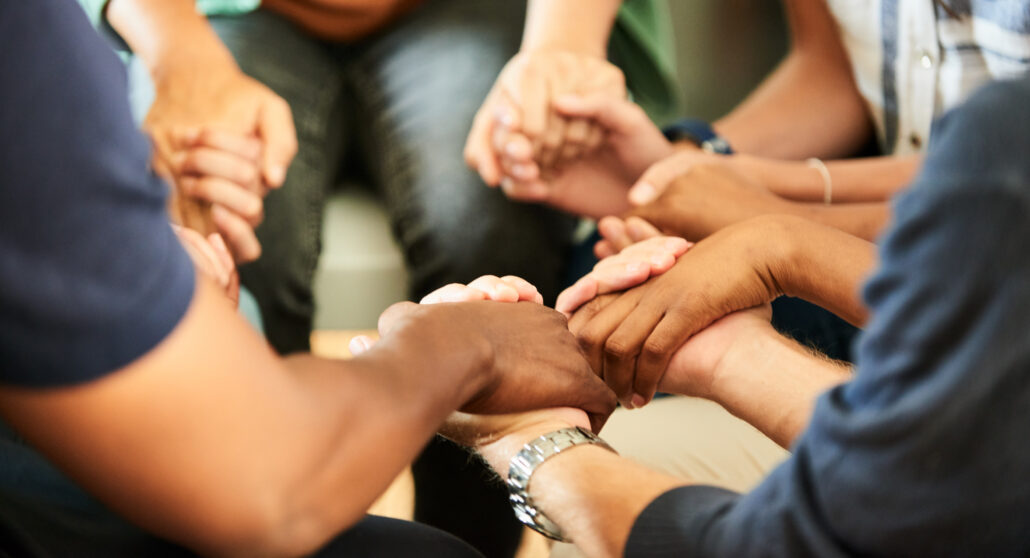 Spiritual Formation Deepens Our Connection to God
Every aspect of our lives is spiritual, and so everything we do forms (or deforms) us spiritually. – Dr. Jim Brandt, Professor Emeritus of Historical Theology (Spiritual Formation Retreat syllabus, 2018)  
Spiritual formation requires focused intentionality to conduct our lives, both personally and collectively, as the image and likeness of God. 
According to Dr. Sharon Betsworth, Vice President of Academic Affairs and Dean at Saint Paul School of Theology, it is a time when we are called to holiness of heart, mind, body and in community. Spiritual formation retreats at Saint Paul take place during FOCUS week each semester, which coincides with the in-person portion of our hybrid courses. The retreats include corporate worship, spiritual practices and community building activities which all center on a particular theme.  
In addition, weekly spiritual formation sessions enable students to encounter different spiritual practices and how others experience them. This helps faith leaders to spark ideas for offering a variety of formation opportunities in their own ministry settings.
"It is crucial for seminary students to establish healthy patterns of prayer and continue to seek spiritual growth as they prepare for vocational ministry," says Rev. Jen Logsdon-Kellogg, Oklahoma Campus Chapel Coordinator. Logsdon-Kellogg hosts the weekly sessions each Tuesday a 11 a.m., both on campus and on Zoom. 
Spiritual Formation Retreats During FOCUS Week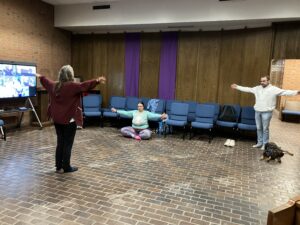 Spiritual formation retreats are rooted within the Wesleyan practice of engaging both personal and social holiness. As Betsworth explains, the retreats immerse the students in a topic which integrates their individual faith journey with a broader issue of social justice present in our world today. 
The spiritual formation retreat is required for students in both our Master of Divinity and Master of Arts in Christian Ministry programs. As a part of our contextual education curriculum, spiritual formation prepares students for the reality of ministry in their own communities. These day-long gatherings of students, faculty and staff deepen one's sense of being the body of Christ. Other contextual education programs include PLUM groups, ministry collaboration groups and ministry settings. 
Prior to FOCUS week, students read assigned materials on the topic of the upcoming SFR. During FOCUS week, they spend one intensive day with an instructor engaging on the topic. Activities include group discussion, personal reflection time, worship and a community meal. Following the retreat, students reflect upon the experience and write a short paper guided by instructor prompts and the readings. 
During the fall semester, both the Kansas and Oklahoma campuses host a Spiritual Formation Retreat as part of FOCUS week. The fall 2022 Kansas retreat was led by Dr. Amanda Quantz with a focus on "Pastoral Formation for Unprecedented Times." Dr. Quant used a book she authored entitled Radical Hospitality for a Prophetic Church. Activities included tending inward to one's sense of call, learning from others about self-discovery and purpose, reflection on unprecedented times and developing an inner culture of awareness. Students also sharpened spiritual formation techniques for spiritual wellness. 
In Oklahoma, Rev. Dr. Jennifer Long led "Fully Embodied Faith" guided by the book Dance–The Sacred Art: The Joy of Movement as a Spiritual Practice by Cynthia Winton-Henry. During this time of connecting heart, mind, soul and body, students learned about embracing the body in preaching, teaching, prayer and pastoral care. Participants worked on developing a fully embodied faith and explored the power of connection in creating change. They also reflected on ways in which a fully embodied faith has been encouraged and discouraged. 
The spring 2023 spiritual formation retreat centers on the theme of Spiritual Companioning. It is scheduled for March 6 through 10, on the Leawood, Kansas campus only. It will be led by Rev. Karen Koons Hayden, and participants will explore the important role of relationships with others as we progress through our own individual faith journeys. The retreat will include readings from the book Sacred Companions: The Gift of Spiritual Friendship & Direction by David Brenner.
Weekly Spiritual Formation Sessions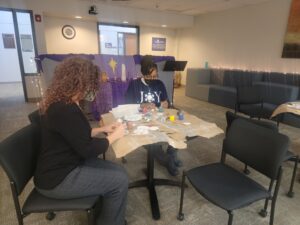 In addition to the retreats held each semester, Saint Paul offers weekly spiritual formation sessions every Tuesday at 11 a.m., both on campus and on Zoom. Sessions meet in Harris Chapel on the Oklahoma campus and the Chapel Room on the Kansas campus.
During weekly formation, students engage in a different spiritual practice each week and then reflect on the experiences together. Activities from past sessions have included lectio divina, prayer walking, writing our own psalms, creating icons, meditation combined with movement, remembering our baptism, contemplative prayer, visio divina and the holy practice of hammocking.
Some sessions are led by a guest speaker with unique gifts and experience. For practices that require supplies, those are provided to on-campus participants. Zoom participants are invited to gather supplies commonly available at home or work. Some practices, such as prayer walking, involve leaving the group for a time to engage in the practice independently. Participants always re-gather for 10 to 15 minutes at the end of the session to reflect in community and close with prayer. 
One of the key components of our weekly spiritual formation experience is community reflection time. Participants are invited (but not required) to share how the practice affected them in two ways: what they heard from God or learned about God, and how the process of engaging the practice felt. 
Topics for upcoming weekly sessions are shared regularly via Campus Messenger, on social media, and in chapel. Topics scheduled for January and February 2023 are as follows:
Star Words (January 10)

: As the magi navigated by the stars to find their way to Jesus, we will allow a word to guide us in spiritual growth. Each person will be invited to draw a word, then we will explore a series of questions for reflection using their word as a starting point for listening to God.

Lectio Yoga (January 17)

: We will combine the scripture meditation practice of lectio divina with the movement of yoga. 

Beach Day (January 24)

: The middle of winter is a great time to retreat to the warmth of the sun and sand and the calming sound of gentle waves. Come enjoy a mini-beach retreat in the bleak midwinter.

Beatitudes (January 31)

: We will take the Beatitudes from the beginning of Jesus' Sermon on the Mount as a starting point to write our own beatitudes.

Labyrinth (February 14)

: Labyrinth Facilitator Diane Rudebock will lead us from the Oklahoma campus. If you do not have access to a labyrinth, you can still participate! Diane will also join us for Lunch & Learn during the community lunch time following Spiritual Formation.

Clay Creations (February 21)

: As we prepare to enter the season of Lent, we offer ourselves for reshaping and transformation by God. We will use sculpting clay to meditate on the process of being made and re-made throughout our spiritual journey.
Register to receive the Zoom link at https://app.donorview.com/Dx4wq. 
Spiritual formation offers all students, faculty, staff and alumni an opportunity to experiment with different spiritual practices and learn how we can experience a deeper connection with God. "The time we spend together…also enhances the connections within our Saint Paul community and helps us to know one another more deeply," says Logsdon-Kellogg.
If you're interested in joining our community, you may apply online for admission to one of our degree programs. Contact us at or 913-253-5084 if you have questions about seminary education at Saint Paul.