Executive Summary

Saint Paul Strategic Planning Executive Summary - Feb 2016

Full Strategic Plan

Saint Paul Strategic Plan Entire Report - Feb 2016

Strategic Planning Updates

BOT Strategic Plan Update per Annual Cycle - November 2018
2017-2019 Intermediate Strategic Priorities
Many institutions of higher education traverse the significant challenges of delivering mission, accreditation and financial health by developing a meaningful strategic plan.  Saint Paul School of Theology (SPST) honors the past development of the strategic plan and endeavors to link the revised plan to finance in meeting our academic mission.
Discussion for the Strategic Planning Committee, comprised of trustees, administration and faculty, evolved to consensus on our goals and Key Performance Indicators (KPIs) as they link to the budget and support the Saint Paul Mission. The committee goal is to develop ongoing and meaningful indicators that will meet short term needs with an eye on the future, positioning to deliver the institutional mission. Data informed decisions and continued analysis of KPIs will be transparent and reviewed at each Board meeting. The commitment of the Strategic Planning Committee is to create a living, breathing document that will position SPST for a healthy future.
Goals:
S – Specific
M – Measurable
A – Attainable
R – Relevant
T – Time Sensitive
I – Inspiring
SPST is committed to our strategic plan. This commitment is clear through progress made over the past 18 months. A high level review of the organization of the strategic plan can be found below:
First, the SPST strategic plan is guided by four strategic directions.
Next, the goals and indicators of effectiveness arise from these strategic directions.
Finally, to ensure we are focused on a short-term basis intermediate strategic priorities were implemented to tie back to the goals. The board of trustees will be implementing the academic year 2019-2021 priorities shortly.
February 2016
A FINAL REPORT FROM THE STRATEGIC PLANNING TEAM
The Strategic Planning Team of Saint Paul School of Theology will officially end its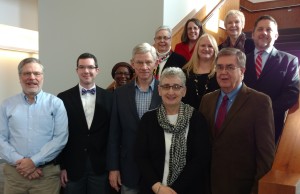 work upon the completion of their presentation to the Board of Trustees on February 26, 2016.  The Board of Trustees will receive the report and take appropriate actions as it moves toward adoption of a Strategic Plan for Saint Paul School of Theology 2017-2025. It is being presented after a year of thoughtful and thorough research and review, deliberation and prayer.  In keeping with our commitment of transparency, the team wanted to notify the Saint Paul community of the completion of our work.  It was a privilege to serve Saint Paul School of Theology in this way, and we are pleased to present our unanimous recommendations to the Board.
The Strategic Planning Team of Saint Paul School of Theology was created and called into being by the Board of Trustees in October of 2014. The team approached the Strategic Planning process as a "labor of love," with a commitment to hold sacred the values, traditions and culture of Saint Paul, while accepting the responsibility of looking at all aspects of the seminary, including the past, present and future. A challenge was put forth early in our time together by Dr. Alice B. Hunt, President of Chicago Theological Seminary. "What if we, today, began to think of ourselves as founders, not merely as inheritors, or worse, survivors?" Our journey began with this challenge and we approached our work thinking about theological education for the future.
The team was stretched further by many others who spoke, by those who shared their thoughts and visions, as well as by those who shared their grief of the past and dreams for the future. What is presented in the strategic plan is a compilation of many aspects of the work of the team, a deliberate and inclusive process involving not only the fourteen members of the Strategic Planning Team but also a host of others from within and outside the community of Saint Paul.
The Strategic Plan is not the end of the work of Saint Paul School of Theology but the beginning. There will continue to be challenges ahead, and changes in theological education will continue. Saint Paul must be ready for these changes and adapt, as it must – and so it shall! Our prayers are for it to passionately, yet deliberately, move forward into its vision, embracing the possibilities for the future.
The Strategic Planning Committee expresses great appreciation to the Board of Trustees and its Chair, the President of the Seminary, faculty, students, administrators, staff, alumni, donors and supporters, and other stakeholders who shared their expertise, experiences and time to the development of this plan. It has been a privilege to be on the journey with all of you.
Nancy Brown, Chair
Strategic Planning Team
Saint Paul School of Theology
November 2015
A plan will be presented to the Board of Trustees in February that will require flexible and adaptive leadership, creative thinking and innovation, willingness to pursue new concepts of theological education and collaborative opportunities, and a commitment by the Board of Trustees to move in a new and sustainable direction.
Read the full update from Nancy Brown by clicking on the PDF below.
Strategic Plan Update November 2015
Front Row: Nancy Brown, Twila Glenn, Ashley Cheung,
Angela Sims, Kim Galbraith
Back Row: H. Sharon Howell, Bob Cox, Marcia McFee,
Mark Holland, Tex Sample, Kendall Waller
Not Pictured: Brian Green-Young, Tom McDaniel, and Karyn Wiseman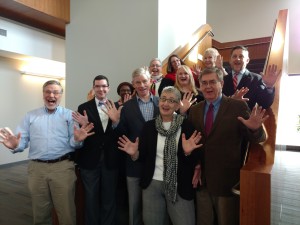 Front Row: Kendall Waller, Brian Green-Young,
Tex Sample, Karyn Wiseman, Bob Cox
Second Row: Angela Sims, Twila Glenn, Marcia McFee
Third Row: Nancy Lambert, Nancy Brown, and Mark Holland
Not Pictured: Tom McDaniel, Ashley Cheung, Kim Galbraith
Strategic Planning Team
A New Beginning
The Strategic Planning Team of Saint Paul School of Theology held its first meeting on January 30, 2015. Rev. Alice Hunt, President of Chicago Theological Seminary, addressed the team and challenged them to think of planning theological education for the future, rather than planning for the future of theological education.
"Conventional strategic planning would be the easiest way to proceed," said Hunt, "but what if we would think of ourselves as founders?"  She encouraged and challenged the team to "put everything on the table, all assumptions, structures, and behaviors" to become the founding school of 2015, "filling the space that others will not or cannot." The team enthusiastically received the challenge.
Strategic Planning Process
Over the next twelve months, their work will include revisiting the institution's mission, values and vision, examining institutional data and current best practices in theological education, obtaining and incorporating feedback from internal and external stakeholders, and analyzing and synthesizing information pertinent to the strategic planning process.
As information is gathered and the team moves further into the planning process, a series of strategies, goals and objectives will be developed. Ultimately they will be translated into action items designed to prioritize institutional decision making. It is incumbent upon the team to ensure that appropriate decision makers have the necessary information and tools in the strategic plan to guide and not limit further opportunities to achieve the vision of the institution. The final product, a cohesive and comprehensive strategic plan designed to guide Saint Paul School of Theology over a five year period, will be presented to the Board of Trustees in February of 2016.
Focus Groups and Survey
Key to the strategic planning process is engaging and gathering input and feedback from many internal and external stakeholders. Multiple opportunities for stakeholders to share their opinions and suggestions are planned through Focus Groups. Focus Groups have begun and will continue into the future. They will include opportunities for students, prospective students, faculty, staff, clergy, collaborative partners, alumni, donors and anyone interested in Saint Paul School of Theology to participate. If you would like a Focus Group in your area, please contact me.
The team embraces the values of transparency and participation and will keep its numerous stakeholders apprised of their work, as well as opportunities to participate in a Focus Group through updates on the website. Enabling meaningful and continual participation in the process is central to ownership and success of the strategic plan. Look on the website in the next few weeks for a survey instrument designed to obtain input from those unable to attend a Focus Group. We value the opinion of all who care about Saint Paul School of Theology.
Strategic Planning Survey
Please click the following Strategic Planning Survey. Your honest responses will help us better understand how the seminary community views Saint Paul and its vision for the future.
Meetings
The second meeting of the Strategic Planning Team included input from individuals dedicated to Saint Paul School of Theology. The team heard from Rev. Robert Hayes, Bishop of the United Methodist Oklahoma Annual Conference, Dr. Elaine Robinson, Interim Vice President of Academic Affairs and Dean and Professor of Methodist Studies and Christian Theology, Dr. Amy Oden, Professor of Early Church History and Spirituality, and Chair of the Faculty Personnel and Steering Committee, Rev. Adam Hamilton, Senior Pastor, The United Methodist Church of the Resurrection, and Member of Saint Paul Board of Trustees, and David Sisney, Vice President for Advancement for Saint Paul School of Theology.
Bishop Robert Schnase, Missouri Annual Conference, Bishop Gary Mueller, Arkansas Annual Conference, and Bishop Scott Jones, Great Plains Annual Conference will be speaking to the team at the March 27 meeting. During April the Team will be engaged with Focus Groups. The next team meeting will be May 15.
The Journey
This is an important and exciting time in the history of Saint Paul School of Theology. Rev. Alice Hunt closed her presentation with a slight modification of a familiar scripture: "Who knows but what we have come to this place for a time such as this? Our time is now. This is our moment!"
The team is aware of the responsibility they have and the tasks entrusted to them. While a challenge, it is also a privilege to serve with one another in this important time, knowing there are hundreds of persons throughout the world who love Saint Paul School of Theology and are on this journey with us. We invite and welcome your participation and prayers.
Nancy Brown, Chair, Strategic Planning Team
Saint Paul School of Theology
nancybrowncor@aol.com