Virtual Chapel
During this time of physical distancing, for the safety of our students and staff, the Fall 2020 chapel services will be held virtually via Zoom.  Check your Campus Crier for Zoom Meeting ID or contact Chapel Coordinator, Rev. Dr. Casey Sigmon, for more information.
If you would like to see recordings of some of our most recent weekly chapel services, you can view them on the Saint Paul YouTube channel or Facebook page.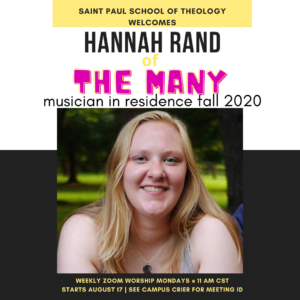 2020
FALL Worship Schedule on Zoom
Monday 11:00 AM - 11:45 AM CST
August
8/17/20 Featuring Preacher, Rev. Shannon Fleck, Executive Director of the Oklahoma Conference of Churches
8/24/20 "Streams of Life " worship led by the Student Council
8/31/20 Featuring Preacher, Dr. Jim Brandt, Professor of Historical Theology
September
9/14/20 Featuring Preacher, Darren Calhoun of The Many
9/21/20 Featuring Preacher, Dr. Lisa M. Wolfe, Professor of Hebrew Bible, Oklahoma City University
9/28/20 Featuring Preacher, Rev. Dr. Kathryn Nix, Lead Pastor Grace United Methodist Church, St. Louis
October
10/5/20 Focus Week
10/12/20 Reading Week No Service
10/19/20 Featuring Preacher, Dr. Michelle Hatcher, Registrar and Director of Financial Aid
10/26/20 Featuring Preacher, Rev. Jason Bryles, Pastor Centennial (Kansas City), PLM Instructor
November
11/2/20 All Saints, led by Richard Liantonio, Kansas Campus Librarian, PhD Candidate in Hebrew Bible The University of Manchester
11/9/20 Worship led by Women in Ministry Student Group
11/16/20 Worship led by Dr. Elaine Robinson 
11/23/20 Thanksgiving Service led by Cortney Inbody, MDiv. Student
11/30/20 World AIDS Day
December
12/7/20 Advent Worship led by Rev. Rodney Newman, OKC Worship Coordinator
12/14/20 Christmas carols and readings
During events, photographers and videographers will take photos and videos that may be used in future Saint Paul School of Theology marketing materials. 
Events may be live-streamed.