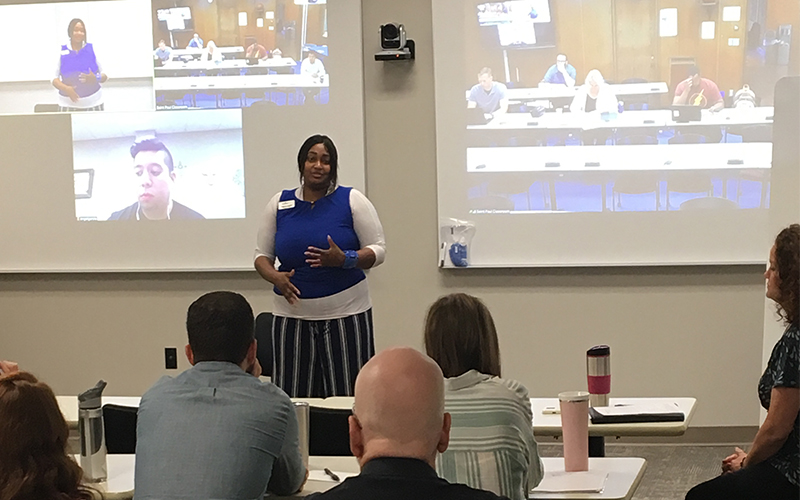 New Technology in the Classroom Enhances Hybrid & Online Seminary Courses at Saint Paul
Saint Paul School of Theology is compelled by one of our guiding values, "to use multiple platforms and approaches in academic life."
And multiple approaches are essential for serving students who are pursuing a life in ministry while also juggling other responsibilities like work and parenting.
About 95% of seminary students are 25 or older, while one-quarter of adult students have minor children and over half have jobs. Flexible scheduling and online and hybrid classes make it possible for these non-traditional students to complete their seminary degree at Saint Paul.
In addition, recent classroom remodel and technological upgrades at Saint Paul School of Theology make it possible for even more students to engage in meaningful learning experiences with faculty, peers and guest speakers — from anywhere in the world!
Benefits of New Classroom Technology
Newly upgraded Zoom Rooms allow up to 100 students and classrooms to join in on lectures and participate in learning activities. The Zoom platform lets us connect both our Kansas and Oklahoma campuses in a seamless fashion while also allowing guest speakers from across the globe join in.
Students who happen to be ill, or those who live many hours away, get to learn the Saint Paul theological approach without having to worry about never seeing another student's face, or missing vital information.
The technology gives us great flexibility and wireless usability to stretch our ideas and pedagogical approaches. We no longer need to worry about cables and compatibility.
According to IT Media Supervisor Samantha Potter, "Zoom Rooms make my job even more exciting as I support brand-new uses for the technology they've created in our new educational systems. I no longer need to worry about quality as Zoom gives me confidence that the students will get the best education they can get. And that's the crux of my job."
As we work with Zoom to push the boundaries of distance education, we'll be able to see how the next generation of religious leaders will create relationships with one another in brand new ways across farther edges of the world.
How Zoom Rooms Work
Implementing the new FLEX scheduling format required a commitment to remodeling our classrooms and significantly upgrading our technology.
Zoom software is used to create an integrated learning experience between locations.

New learning spaces at our Kansas and Oklahoma campuses are equipped with PTZ USB cameras for full 1080p high definition video.

Ceiling mounted microphones provide clear, quality sound.

One classroom includes white-board projections with 112" screens that allow a person to stand in the hallway (outside the classroom) and still be seen clearly by video conference participants.
The new classroom and technological upgrades strengthen the way Saint Paul lives out our commitment and continues to deliver quality education which forms people for transformational ministry in the church, the city street, the country road and the public square.
To learn more about how technology at Saint Paul can help you answer God's call, contact our admissions office or apply today!