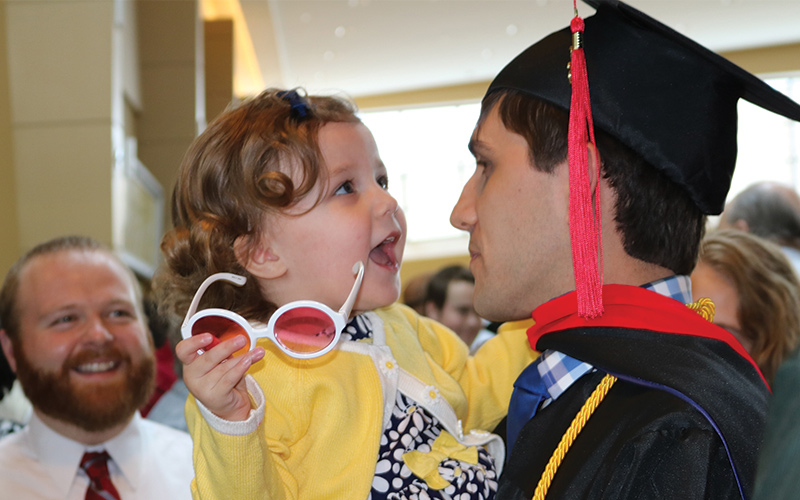 Saint Paul School of Theology Adds Convenience with On-Campus, Online & Hybrid Classes
Are you looking for ways to balance your theological classes with other responsibilities? If so, you're not alone.
According to some estimates, as many as 95% of seminary students are 25 or older. Other research on students across all disciplines reveals that 26% of adult students are raising children, while 58% have jobs while enrolled in higher education.
That means an increasing number of seminary students are juggling more and more responsibilities. One of the most important needs of adult learners is flexibility in terms of how, when and where courses are offered.
In response to this growing need, Saint Paul School of Theology now offers a combination of online courses and blended learning solutions, along with traditional on-campus options, so that all seminary students can access the classes they need to achieve their goals.
HOW DOES FLEX DELIVERY WORK AT SAINT PAUL?
Saint Paul School of Theology's new FLEX Delivery program (which stands for Flexible Learning Experience) lets you work with your faculty advisor to choose the class format that works best for your learning style and life circumstances.
Each semester a class will be presented in two of three formats: on-campus, online or hybrid courses (a form of blended learning that combines online and on-campus time.)

Saint Paul faculty will have two sections of classes using two different delivery methods.

One option will always include the traditional on-campus option at the Kansas City or Oklahoma City-area location.

During on-campus weeks you will take classes and also experience a community learning opportunity. Examples of community learning might include a spiritual formation retreat or practicum that teaches practical ministry skills such as how to plan a funeral, how to make a hospital visit and so on.
WHAT ARE THE BENEFITS OF FLEX DELIVERY?
According to Dr. Jeanne Hoeft, Vice President for Academic Affairs and Dean, FLEX Delivery builds on the Saint Paul tradition of community "by being very intentional about the time that we have together."
Students enjoy several benefits of having a choice of multiple class delivery methods:
Removes the obstacles of time and distance

Reduces commuter costs

Reaches individual students where they are

Creates a more positive seminary learning experience overall
HOW DO YOU SIGN UP FOR FLEX DELIVERY?
If FLEX Delivery sounds like the right option for you, your advisor can provide details about the courses and formats that work best with your program of study and your outside responsibilities.
If you choose all hybrid courses you will only need to come to campus for 2-3 weeks out of the year for face-to-face class time.

You may take three-fourths of your degree online, but will need to take at least one-fourth of your courses as hybrid or on-campus.
Saint Paul will be increasing the number of online and hybrid class offerings beginning with the Fall 2018 semester.
For additional information visit www.spst.edu/flex or contact Deana Brink in Admissions, 913-725-8289, or deana.brink@spst.edu.