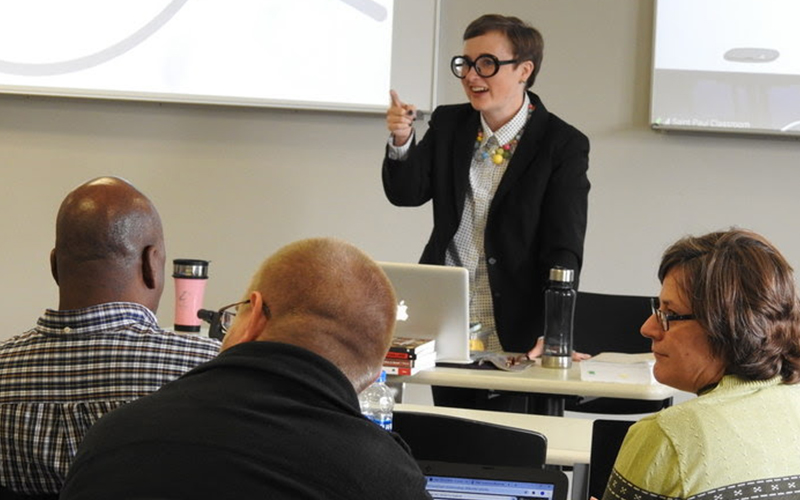 Called to Become a Minister? Take the Next Step at Experience Saint Paul
You may have recently discerned a call to ministry. You may have already applied to seminary.
But how do you know what to expect as you take the next step in this journey?
Whether God is leading you to pastor a church, serve as chaplain for a community organization, or provide spiritual guidance in some other role, you may be unsure of how to become a minister.
Saint Paul School of Theology invites you to learn first-hand what seminary is like by joining us for Experience Saint Paul. You'll have the opportunity to interact with students, faculty and staff, participate in worship and visit classes.
The

Kansas event

takes place on Tuesday, March 19, 2019, from 9 a.m. to 3:30 p.m. at Building C on our campus in Leawood, Kansas.

The

Oklahoma event

takes place on Tuesday, March 26, 2019, from 9 a.m. to 3:30 p.m. at Bishop W. Angie Smith Chapel on our campus in Oklahoma City.
Experience Saint Paul is a special time to establish relationships with your future colleagues, gather information to illuminate your path and prepare for life in seminary and beyond.
Spend time with others in prayer, Scripture reading and reflecting on God's call to serve all people.

Learn about the requirements to fulfill your particular calling. Saint Paul prepares students to become ordained ministers, chaplains, lay leaders, teachers and many other important roles in service to God's Kingdom. Programs

include

Master of Divinity, Master of Arts in Christian Ministry, Master of Arts in Theological Studies,

Certificate in Theological Formation

,

United Methodist Church Course of Study

and

Doctor of Ministry

.

Apply

to Saint Paul if you haven't yet done so. Final

deadlines

are May 1 for international students and July 1 for domestic applicants.

Explore ways to use your gifts in service during your time at Saint Paul, as well as to your church or surrounding community.
We look forward to welcoming you to campus and answering all of your questions. You can sign up for Experience Saint Paul on either campus by calling (913) 725-8289 or send an email to admiss@spst.edu.