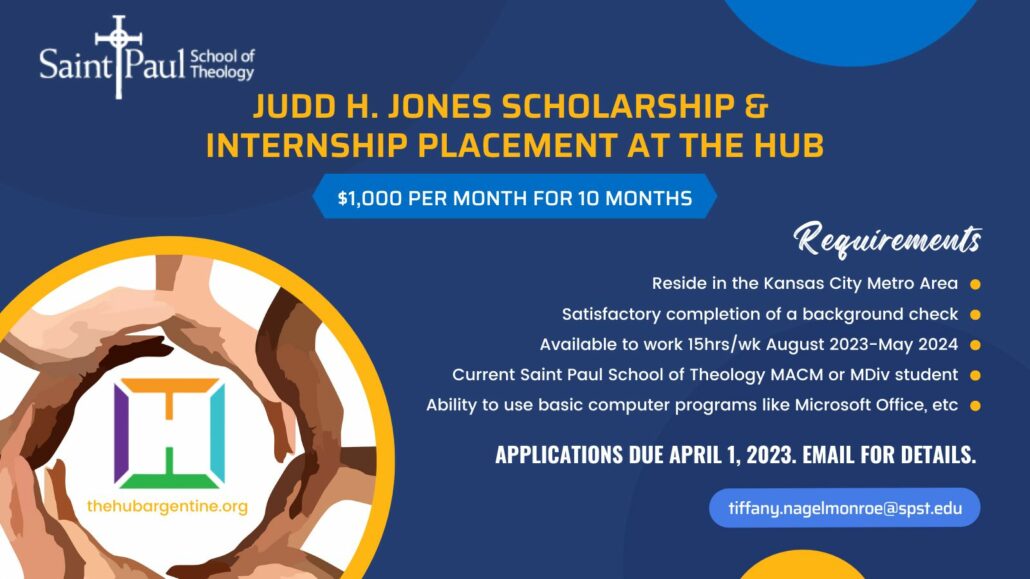 Saint Paul Revives Judd H Jones Scholarship and Internship at the Hub
The Contextual Education Office at Saint Paul School of Theology is happy to announce the return of the Judd H. Jones Internship for any Master of Arts in Christian Ministry (MACM) or Master of Divinity (MDiv) student living in the greater Kansas City area.
This internship was launched through a memorial offering in 2000 from Dr. Jim Lee in memory of his wife. For two decades, the Judd H. Jones internship allowed Saint Paul students to serve in Kansas City, Kansas at Trinity UMC. Trinity closed its doors in July of 2019 and Saint Paul looked for another opportunity for students to serve in the neighborhood. In partnership with Rev. Carter Ellis, the internship will now place a seminarian at The Hub Argentine. 
The Hub is a ministry of the Kansas City District of the United Methodist Church designed to bridge the divide between Wyandotte and Johnson counties. The Hub partners with the United Methodist Churches throughout the Kansas City District to serve alongside and support the efforts of the Argentine neighborhood. The Hub practices Asset Based Community Development and prioritizes using the gifts of the neighbors in Argentine. The Hub has a community garden, clothing closet, community market that provides free food, and programming for children. Interns will have the opportunity to practice ministry in an incredibly diverse community, develop existing programs and start new ones, and practice ministry in non-traditional ways. While The Hub is a United Methodist ministry situated in Kansas City, the internship does not exclude applicants from other denominations, nor UM students outside of The Great Plains Conference.
Along with excellent mentorship and experience in a collaborative new ministry, the recipient of this internship will receive a scholarship for $1,000 per month for ten months of ministry (15 hours/week), August 2023-May 2024.  
All those interested in applying for the internship, contact Rev. Dr. Tiffany A. Nagel Monroe () by April 1st.