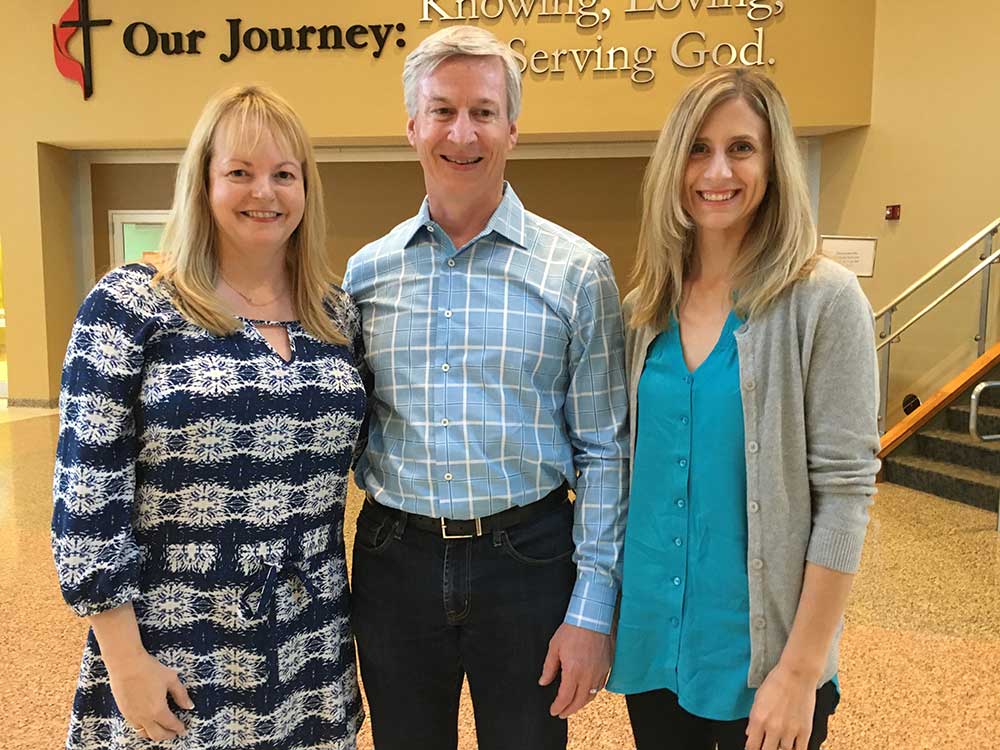 Saint Paul Fellows Program Helps Fulfill Seminary Dream
Mother of three felt called to full-time ministry, but tuition costs made it impossible.
As a school teacher, Amie Littrell has worked to encourage and build up the self-esteem of her students. But through the years, Amie began hearing a call to move beyond the children in her classroom and into the broader mission of the church.
"Part of my life experience has given me a heart for people who are marginalized and suffering from brokenness and addiction. I just want to give my life to serve God in the hopes that people can experience genuine heart and life transformation," Amie said.
For years, Amie dreamed of attending seminary to become a full-time pastor, but with the average clergy member graduating with $45,000 in student loan debt, it just wasn't an option.
"My husband has always known I felt called to the ministry and is supportive of me serving the church," Amie said. "But whenever I brought it up, he would gently remind me that unless it was free, we just couldn't afford it."
*******
In late 2014, Church of the Resurrection members Rod and Sharon Hennig were invited to a small gathering to brainstorm about ways to fund a fellowship program for Saint Paul School of Theology located on Resurrection's Leawood campus. President Sharon Howell and Senior Pastor Adam Hamilton shared with the group of about 30 church leaders that Saint Paul was losing out on high-quality seminary candidates because it lacked a full-ride scholarship program.
Sharon Hennig immediately felt called to support the effort.
"The meeting was very eye-opening. How would anybody know about this need unless they wanted to go to Seminary?" Sharon said. "Building up future leaders in the church is one of the most important things we can fund."
The Hennigs committed to sponsoring one Saint Paul Fellow every year in perpetuity through the Hennig Family Foundation. Under the charitable arrangement, the foundation grants funds to the students, but Saint Paul chooses the Fellows and oversees their course of study.
"What makes this Fellows program truly unique is its collaboration," said David Sisney, Saint Paul Vice President of Advancement. "Students get placement in the local church, which pays them a stipend for their work. In the meantime, donors to the local church fund the student's tuition, books and fees."
The initial vision for the Saint Paul Fellows program was to fully fund one Fellow each year. But donor interest in the program surpassed expectations, and Saint Paul plans to fund at least five Fellows beginning in 2016.
"Our vision is to move forward and grow this program," Sisney said. "We want to ensure that the expense of attending seminary never keeps a person called to ordained ministry or church service from fulfilling that call."
***
In early 2015, the Hennigs' desire to grow future pastors aligned with Amie Littrell's call to ministry. Amie was one of the first students accepted into the Saint Paul Fellows program, with the Hennigs' underwriting her education through their family foundation. The Hennigs and Amie met recently for the first time over coffee.
"It's such a dream that seemed so far off and you have made it a reality," Amie says, eyes glistening. "I thought, 'This can't be real.' I am so excited to meet you and be able to thank you in person."
Rod and Sharon sit across from Amie, holding hands. "I'm glad we can help you," Rod says. Sharon asks Amie about her seminary experience so far.
Amie tells the Hennigs she is spending her first year working in the Congregational Care Ministry at United Methodist Church of the Resurrection, the largest mainline denominational church in the world and location of Saint Paul School of Theology's Kansas Campus. In Congregational Care, Amie offers one-on-one pastoral care to church members.
Finally, the Hennigs ask Amie where she believes her seminary journey will lead her.
"The possibilities with God are unlimited. I just hope to follow Him and be fruitful. The mainline church is in such a precarious state right now," Amie said. "I just want to be able to help carry this faith to generations of people."
###