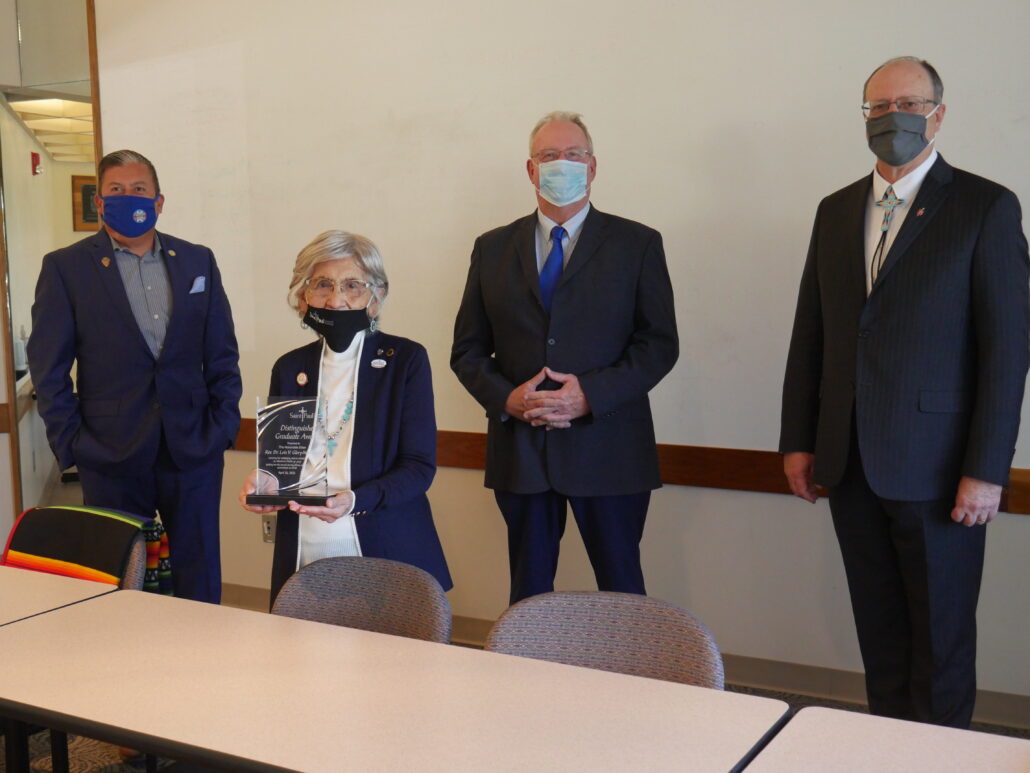 Rev. Dr. Lois V. Glory-Neal Receives Distinguished Graduate Award
Saint Paul School of Theology is pleased to announce that Rev. Dr. Lois V. Glory-Neal is the winner of the 2020 Distinguished Graduate Award.
Born in the Cherokee Nation, Rev. Dr. Glory-Neal was the first Native American woman to be received into full connection as an ordained elder in The United Methodist Church.  She became the first Native American District Superintendent in 1992.  Rev. Dr. Glory-Neal graduated with a Bachelor of Arts degree from Oklahoma City University in 1984. She continued her education by earning her Master of Divinity from Saint Paul School of Theology in 1988.
The Distinguished Graduate Award is presented annually at Saint Paul School of Theology. Due to COVID constraints, Rev. Dr. Glory-Neal was recently presented her award at an intimate, socially distanced gathering at the Oklahoma Conference UMC offices in Oklahoma City.  A video tribute honoring her years of service in the church and community can be found online: https://youtu.be/054Tp4mlYaY.
"The Rev. Dr. Glory-Neal served God faithfully in ministry as an ordained elder and as District Superintendent—the first Native American woman to do both. Generations of people in ministry are the recipients of her faithful and trailblazing work.  It is truly our privilege to have this opportunity to honor her," says Dr. Anne C. Walker, Saint Paul Associate Dean of Academic Programs and Executive Director of the Oklahoma Campus.
Saint Paul School of Theology is a seminary of the United Methodist Church with one mission in two locations. The Oklahoma campus thrives in collaboration with Oklahoma City University in Oklahoma City, and in partnership with the United Methodist Church of the Resurrection, the Kansas Campus serves the Greater Kansas City Metro Area. Graduates leave with tools and first-hand experience necessary to meet the needs of ministry in a changing world. The seminary offers a Certificate in Theological Formation, Master of Arts (Theological Studies), Master of Arts in Christian Ministry, Master of Divinity, and Doctor of Ministry. Learn more at www.spst.edu.