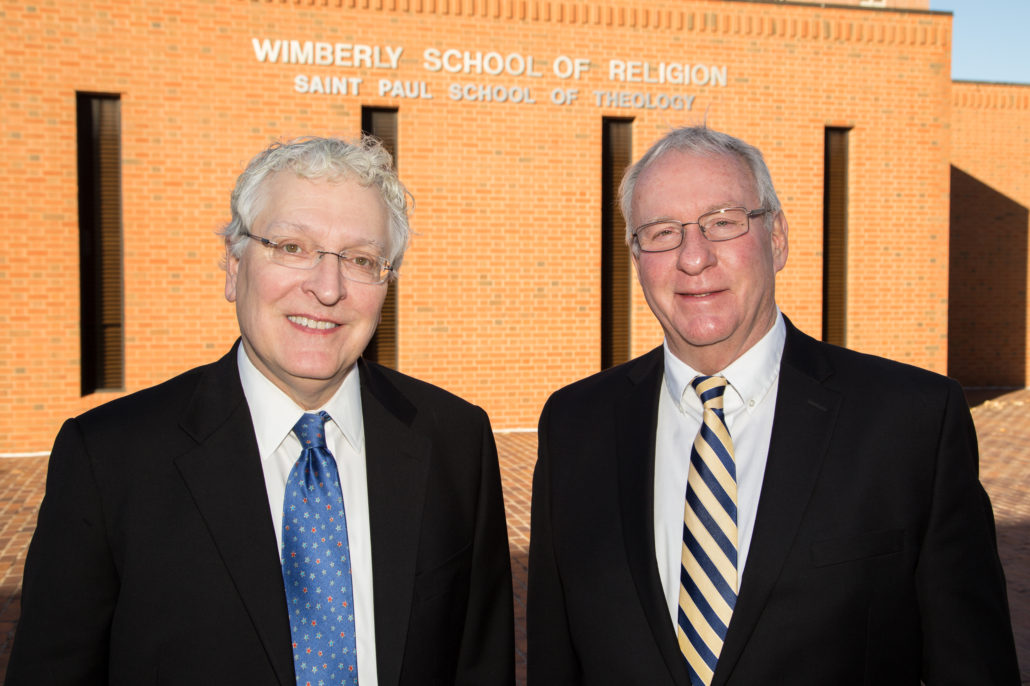 OKC University and Saint Paul Sign 3+3 Agreement
Oklahoma City University President Robert Henry and Rev. Neil Blair, President of Saint Paul School of Theology, have signed a Memorandum of Understanding for a 3+3 theological studies undergraduate-graduate program. The agreement is a significant partnership between the United Methodist-based university and United Methodist seminary.
Under this arrangement, Oklahoma City University students would condense the four-year course of study for the new seminary track of the Bachelor of Arts in religion into three years, followed by the completion of the three-year Master of Divinity degree at Saint Paul School of Theology. The seminary established a branch campus at OCU in 2008, giving students the opportunity to complete their Master of Divinity studies on the OCU campus. This accelerated degree agreement allows students to prepare for ordination and entry into the ministry in six years instead of the usual seven, while earning both B.A. and M.Div. degrees.
"We have enjoyed helping Saint Paul establish a fine program here in Oklahoma," said Oklahoma City University President Robert Henry. "This agreement expands our relationship and establishes a new pathway for fulfilling the academic requirements for ordained ministry." The accelerated degree reduces the barriers of time and money. "This program provides a cost savings, which should open the door for students to receive a first-class ministerial education as they answer the call," said President Neil Blair.
The distinctive new seminary track of the Bachelor of Arts in religion at Oklahoma City University prepares students for full-time ministry in an environment that encourages the interaction of faith and learning. Studies in the major field, along with courses in English, history, philosophy, the social sciences, and various electives will give students an excellent background for entrance into a theological seminary or for various service opportunities in the church and society. Learn more at www.okcu.edu/religion/undergraduate/major.
The Master of Divinity (M.Div.) at Saint Paul School of Theology prepares graduates for ministry in the church, chaplaincy, not-for-profit work and other forms of religious leadership. The M.Div. is required for ordination by many denominations and is among the requirements in the primary track toward becoming ordained as elder in the United Methodist Church. This graduate degree develops students as theologians who are able to understand the biblical, historical, and doctrinal traditions and the ecclesial practices of the Christian heritage. They learn to lead and minister in diverse contexts, to integrate practical skills with academic learning, and to grow in maturity of faith. More information at www.spst.edu/masters-degrees.