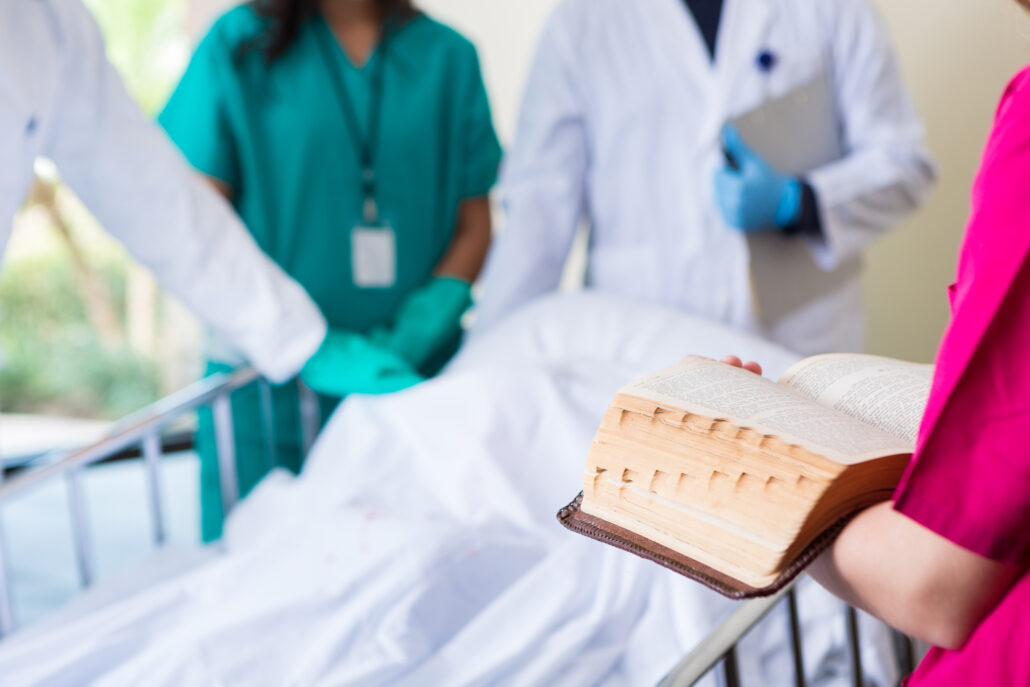 Healthcare Chaplains Offer Spiritual Healing & Support
When we are at our most vulnerable, God is there.
And it is the healthcare chaplain who is called upon to share the reality of God's presence with those who are suffering. 
Healthcare chaplaincy is a unique form of pastoral care that offers love and hope in the midst of illness, disability and death. As full-fledged members of the patient care team, healthcare chaplains provide much-needed support to patients, families and fellow healthcare professionals. Besides providing spiritual care in hospitals, you'll find chaplains working in hospice care, mental health facilities, rehabilitation centers, nursing homes and substance abuse programs. 
The COVID-19 pandemic has brought renewed attention to the essential work of our doctors, nurses and other healthcare professionals. It also highlights the need for spiritual care that enables us to fully experience the power of God's love in troubled times. Those discerning a call to the chaplaincy can prepare for a life in pastoral care through the Master of Divinity (MDiv) program at Saint Paul School of Theology.
The Role of Pastoral Care in a Healthcare Setting
Kelly Hansen (MDiv, 2016), a hospital chaplain at Truman Medical Centers, likens her role to that of Ruth, who was willing to travel anywhere, and through anything, with Naomi. 
As with other forms of pastoral care, healthcare chaplaincy is about relationships. The chaplain must be a good listener in order to build trust. With that foundation in place, pastoral care in a healthcare setting involves a number of tasks:
Offering prayer, sacraments and worship to patients and family members

Providing ethical guidance on difficult medical decisions

Supporting those experiencing times of crisis and grief

Educating clergy, congregations and communities about the work of healthcare chaplains
The chaplain's job, according to Hansen, is to serve as the hands and feet of God for someone who feels alone, especially when they are sick, hurting and scared. This is even more important in the social distancing era, when in-person hospital visits and physical contact from family have been limited.
The Chaplain as a Member of the Care Team
Rev. Emily L. Stirewalt (MDiv, 2011) is an Elder in the UMC Missouri Annual Conference and began her residency in clinical pastoral education (CPE) at St. Luke's Hospital Kansas City in the fall of 2020. One of her most memorable experiences has been participating in staff meetings and responding to questions from physicians on matters of ethics. 
Healthcare chaplains don't just minister to patients and families. They also serve doctors, nurses, aides, therapists and other health professionals. They facilitate compassionate conversations on difficult and emotionally fraught matters between patients, families and medical staff. They offer guidance concerning the religious and cultural traditions that impact medical decisions. Healthcare haplains also serve as liaisons between healthcare organizations and the broader community. 
Preparing for Healthcare Chaplaincy
The Master of Divinity (MDiv) program at Saint Paul School of Theology prepares students for a number of ministry roles, including chaplaincy in healthcare settings.
Dr. Jean Hoeft, Vice President of Academic Affairs and Academic Dean, has taught courses in pastoral care that involve case studies on real-life situations. She says pastoral care is about so much more than learning a set of techniques. Instead, it is a disposition that teaches us the complexity of each human being. Students must wrestle with a variety of difficult scenarios and reflect on how best to approach them within the context of God's love and church ministry. 
In addition to completing seminary education, students can enroll in professional training programs called clinical pastoral education, or CPE. Offered through a number of healthcare organizations, CPE provides experience under the guidance of a chaplain supervisor. Individual and group meetings include examination of case reports and personal reflection on different ways of caring for persons in need.
Are you looking to pursue a career as a chaplain in the healthcare field? If so, we encourage you to explore our Master of Divinity program at Saint Paul. You can apply online or contact our admissions office at 913-253-5084 or for more information.