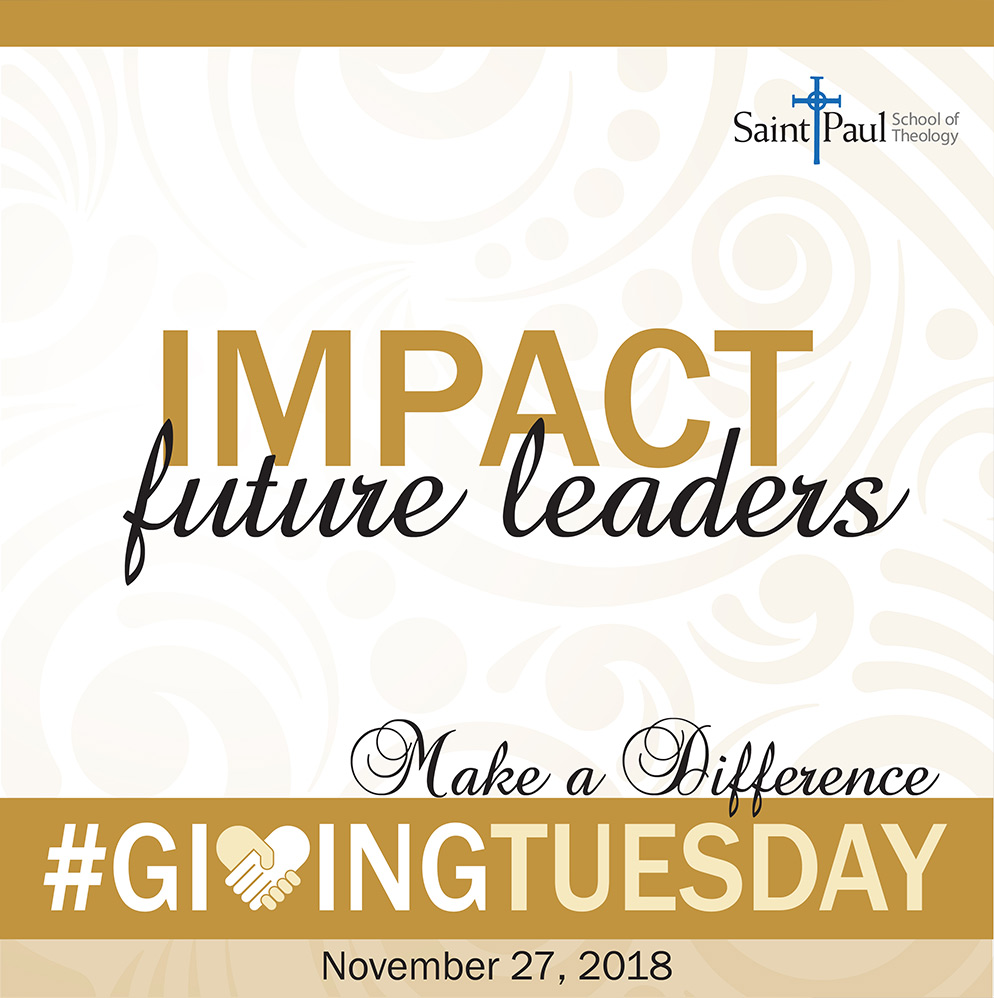 Giving Tuesday a Chance for Saint Paul Community to Support Tomorrow's Ministry Leaders
When Linda first got the call to ministry, she was working full time in the public sector and found "the cost of seminary to be more than I could afford."
That's when the love and generosity of the Saint Paul community stepped in and provided Linda with a scholarship which enabled her to fulfill her mission.
"The day I was sitting down to write my letter to Saint Paul School of Theology that I could not attend because of financial reasons, I was awarded a scholarship that I did not personally apply for," she says.
Alumni and friends of Saint Paul will also come together for this year's $5,000 Giving Tuesday Challenge on November 27, 2018, to support even more outstanding students like Linda who make Theology Come Alive for the people they serve.
"When I saw the scholarship," Linda explains, "I immediately ran out to my husband jumping for joy giving all Glory to God for this blessing because I know it affirmed the calling God had in my life."
About Giving Tuesday
Founded in 2012 by the Belfer Center for Innovation and Social Impact, Giving Tuesday is a global movement that brings together people, families, nonprofits, civic organizations and businesses to create positive change throughout the world. In 2017 alone the movement raised over $300 million for various organizations from more than 150 countries. It takes place on the Tuesday after Thanksgiving every year.
At Saint Paul, it's also a wonderful way to celebrate the wonderful gifts Christ has given to us by supporting our students as they answer the call to discipleship by enrolling in seminary.
This year's Giving Tuesday donations will go to Saint Paul's Annual/Seminary Fund, which provides financial aid to deserving students, along with other critical aspects of our mission:
Recruitment of inspiring faculty

Student activities such as Cafe Mondays and Lecture Series

Improvements to technology and the library

Campus renovations
Giving Tuesday is also a great time to celebrate the upcoming Reconnect@60 campaign commemorating our first 60 years of Christ-inspired education and service at Saint Paul.
How Can You Support Giving Tuesday?
Even better news is that there are many different ways to give to Saint Paul and have a direct, positive impact on our students' everyday lives:
Online.

You can

set up

a one-time gift, or monthly or quarterly electronic transfers directly from your bank account.

Postal mail.

Send checks payable to Saint Paul School of Theology to Development Office — Group 3, Post Office Box 843740, Kansas City, MO 64184-3740.

Securities.

You can donate

shares of stock

by arranging a wire transfer through your broker. This option may offer tax advantages to you in addition to helping Saint Paul students.

Legacy Giving.

This is your opportunity to accomplish your philanthropic goals of supporting Saint Paul students for years to come. Learn how to give through your will or trust

here

.
When reflecting on the generosity of the Saint Paul community, Linda says she will be "forever thankful and blessed by the generosity of the scholarships I received to attend Saint Paul School of Theology because without this help, I could not have afforded this blessed opportunity to be a part of this seminary."
We invite you to take part in this year's Giving Tuesday on November 27, as we pave the way for even more deserving students as they enter a life of innovative ministry in a changing world.