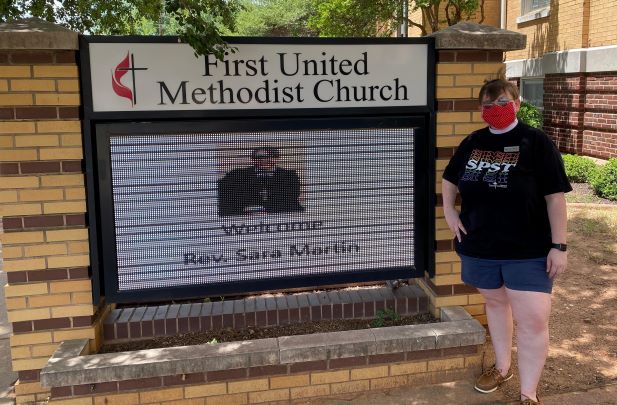 by Dr. Melissa Pearce, Director of Alumni & Partner Relationships
As we sat on the steps of her first appointment, First United Methodist Church of Guthrie, Oklahoma, I grappled with the juxtaposition of her age and the poise with which she detailed her call to ministry and her habit of "following God" faithfully and intentionally.
Almost twenty-two, Sara Martin claimed with confidence and boldness how the question posed to her at Youth Force — "Have you ever considered ministry as a vocation?" — changed her life.  At the age of 16, she had not thought about full-time ministry, but the seed was planted, and Sara began to wonder if "maybe there were places in the church where I could use my gifts and talents," and affirmations of these wonderings began to emerge.
It was just three weeks later while on vacation in Dallas that Sara randomly met Oklahoma City University Professor of Hebrew, Dr. Lisa Wolfe.  Sara listened as Dr. Wolfe explained the 3+3 program where students would condense the four-year course of study for the new seminary track of the Bachelor of Arts in religion into three years, followed by the completion of the three-year Master of Divinity degree at Saint Paul School of Theology.  Sara, still unsure of what she would pursue after high school, tucked the information away.  However, she grinned when she relayed this to me as she now knows that her path was being set without her fully understanding it at the time. 
Once Sara did discern more fully that indeed she would commit to a pastoral vocation, she did so with deep intent.  She continued to be active in the United Methodist Church in Prague, OK, as well as a Certified Lay Servant, which has offered opportunities to write devotions and deliver sermons.  Her affiliation with the Conference Council of Youth Ministry has lent practical experience in writing curriculum, leading small groups, facilitating conversation, and organizing events.   She enrolled and graduated at OCU and will start her first year of Seminary at Saint Paul in August of 2020 while also seeking certified candidate status in the UMC. 
Sara has also served beyond the Oklahoma Conference as a board member on the General Board of Church and Society for the last four years.  During this tenure, she has developed a curiosity and purpose for understanding the relationship between ministry and disabled congregates and what it means to build an inclusive ministry.  Her senior paper, Developing a Disability Positive Hermeneutical Approach for Preaching and Teaching, stemmed from this passion.  She has also co-authored a paper with Dr. Leslie Long, Web Accessibility, and the Church in the 21st Century, which examines "ways religious educators, service providers, and disability advocates can work towards creating an accessible learning environment whether virtual or in person."[1]  She is currently working with the United Methodist Association of Ministers with Disability caucus group. 
She is excited about serving her first appointment and like a wise-sage, she offered that a great deal of her leadership will include listening as the congregation has much to teach her.  She
hopes to build inter-generational partnerships that spur ministry that is fully inclusive and sets the example of how to love God and neighbor.  She proudly detailed the history of the church and offered a description of the congregation as faithful and ever-learning servants. 
She chuckled as she ended our conversation telling me that it seems fitting that her first appointment is in Guthrie.  "It is the first home of Oklahoma City University in a way."  She explained how "the second incarnation of Epworth University (Oklahoma Methodist University)" settled in Guthrie in 1911 before moving to Oklahoma City and becoming Oklahoma City College in 1922.  It seems that Sara will be attending Saint Paul on the OCU campus and leading just down the road from its genesis.  We both found some irony and the Divine in the symmetry of it all. 
[1] "Creating New Space for People with Disabilities,"Aymeducators.org, accessed July 7, 2020,  https://www.aymeducators.org/wp-content/uploads/Web-Accessability-and-the-Church-in-the-21st-Century-5.pdf