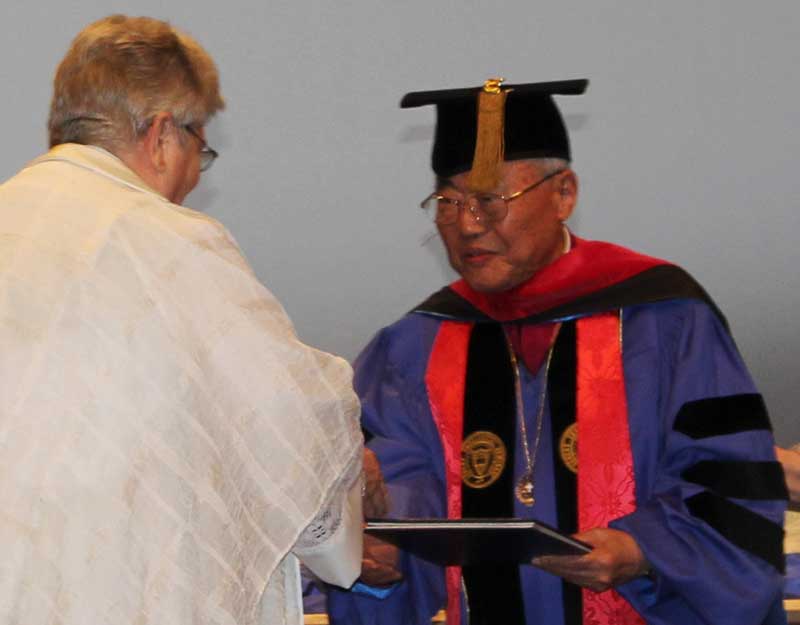 Bishop Kim Receives Honorary Doctorate from Saint Paul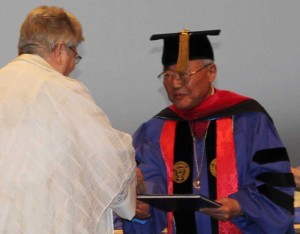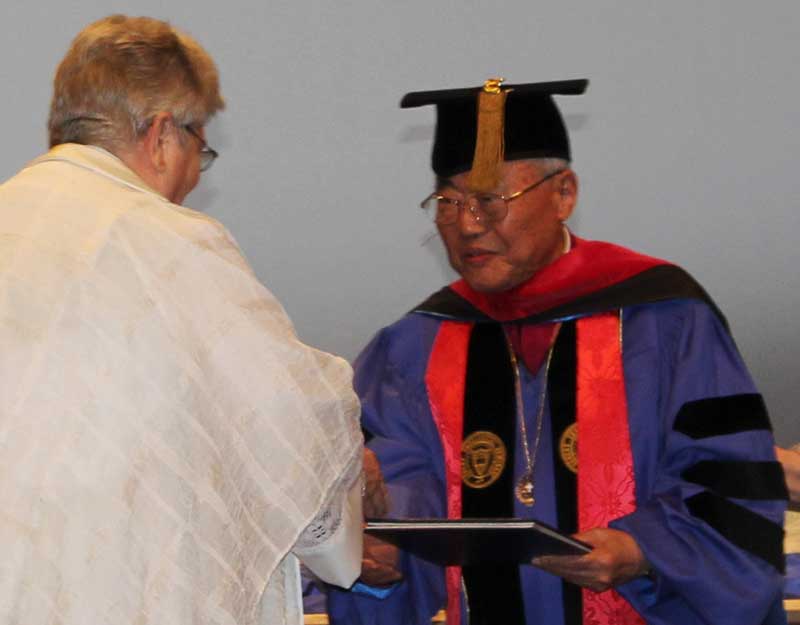 On May 22, Saint Paul School of Theology presented an Honorary Doctor of Divinity degree to Bishop Kim Sundo. Bishop Kim is the founding pastor of Kwanglin Methodist Church in Seoul, Korea. It is the largest Methodist Church in the world with 94,000 members.
The first two degrees awarded in 1962 were Honorary Doctor of Divinity degrees to Bishop Dana Dawson and Bishop Eugene Frank in recognition of their visionary work in establishing a Methodist seminary in Kansas City.
The seminary recognizes Bishop Kim as a visionary who has changed the way the world understands church growth and mission. He receives the third Honorary Doctor of Divinity Degree given on behalf of the Saint Paul School of Theology Board of Trustees, faculty and president.
Bishop Kim completed his seminary training after the Korean War when the economy was in ruins. Great personal loss had fallen on the Korean people and families were separated by an arbitrary geographical line. Unlike Europe after WWII, Korea remained an economically struggling, suffering place for more than a decade following the war.
Bishop Kim served several churches in South Korea, but it was his appointment in 1970 as senior pastor of Kwanglim Methodist Church in Seoul that would provide his greatest opportunity for serving both God and the Korean people.
During his 30 years as their pastor, Rev. Dr. Kim brought the light of Christ to tens of thousands as he built Kwanglim Church into the largest Methodist church in the world.
Dr. Michael Parmely, Chair elect of the Saint Paul School of Theology Board of Trustees visited Bishop Kim in Seoul while on a trip to a global conference sponsored by the General Board of Higher Education and Ministry. Dr. Parmely reflected on Bishop Kim's book of sermons.
"It struck me that this amazing growth of the Kwanglim congregation must have derived from a combination of gentle healing and great hope that characterizes Bishop Kim's work. His sermons capture his firm encouraging message of finding strength within ourselves in times of despair and personal anguish."
Not satisfied with the growth and local impact of the Kwanglim Church, Bishop Kim and his congregation have established global mission centers and seminaries in Moscow, New Zealand, Zimbabwe, and China, to name a few. It may be this aspect of his legacy that will last the longest.