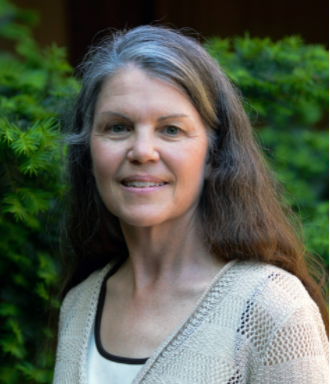 Betsworth Welcomes Seminary Students, Embraces Diversity & Innovation
"Saint Paul has a long and rich history of providing high quality theological education, and I am excited to be a part of that tradition."
Rev. Dr. Sharon Betsworth began her new role as Vice President of Academic Affairs and Dean at Saint Paul School of Theology on July 1. After teaching at Saint Paul since 2009, she says she looks forward to becoming even more immersed in the Saint Paul community.
 "I have the opportunity to work with all members of our community: students, faculty, staff, administrators, trustees, and alumni."
Betsworth will help us welcome students, faculty and staff back to Saint Paul as the featured speaker for this year's Opening Convocation on August 16. Starting at 11 a.m. Central, the Convocation celebrates the new academic year. It is available by live stream on Facebook. 
As she begins her first academic year in her new job, Betsworth is also focused on the priorities that will guide the success of our seminary in a world of rapid change. Those include preparing graduates to minister to diverse communities and finding innovative ways to share the Good News of Jesus Christ.
Prioritizing Diversity 
Creating a diverse student body is one of our strategic priorities at Saint Paul, Betsworth says. That means recruiting students from a variety of backgrounds in terms of race, geography, career interests and religious traditions. 
"Students from diverse contexts create a vibrant learning community," Betsworth observes, "in which students are exposed to cultures and experiences different from their own." 
With respect to seminary education, learning in a diverse setting informs our students' ministry in their church and community settings, she explains. 
Racial and ethnic diversity in the U.S. alone is rapidly increasing, according to the Census Bureau. During the 2021-22 academic year, just over 71% of Saint Paul students were white and 12.7% were African American, with the remaining students identifying as Multiracial, Asian or Pacific Islander, Hispanic or Latino or Unknown. Another 4.9% of students came to seminary from countries outside of the United States. 
One of the benefits of diversity is that students actually learn better when they work with peers from a variety of cultures and backgrounds. By committing to a pluralistic approach to teaching and learning, Saint Paul prepares faith leaders for ministry in the context of a vibrant, worshipping Christian community. 
Encouraging Innovative Ministry 
Betsworth's vision for the seminary is to fully live into our mission statement "to be an intentional community centered in Christ and rooted in the Wesleyan tradition. Our mission statement further commits us to innovative, creative ministry."
That mission is in faithful response to the call of Jesus Christ to preach the Good News, to care for those who are in need of healing, and to set at liberty those who are oppressed. 
Creative ministry is essential for serving the church and the community during times of rapid change and conflict. Today's faith leaders must be prepared to live and work in the context of the ecumenical church, as well as with those from other religious traditions, in order to address the many challenges facing our world. 
For example, the Covid-19 pandemic has forced all of us to evolve in our thinking and practice both at the seminary and in our ministry contexts. "Adaptive and innovative thinking allows us to see and act upon the new visions and opportunities that God is creating in our midst," Betsworth says.
Ministry should be characterized by prophetic vision, caring presence and inclusive evangelism. By reinventing theological studies, Saint Paul equips students for effective ministry through an integrated curriculum that incorporates real-world experience and deep reflection on important concepts. Our graduates are leaders who rely on the power of Jesus Christ to renew the church and transform the world.
We look forward to Betsworth speaking at this year's Convocation, and to her continued service to Saint Paul in her new role. If you would like to watch the celebration via live stream, we invite you to join us on Facebook at 11 a.m. on August 16.