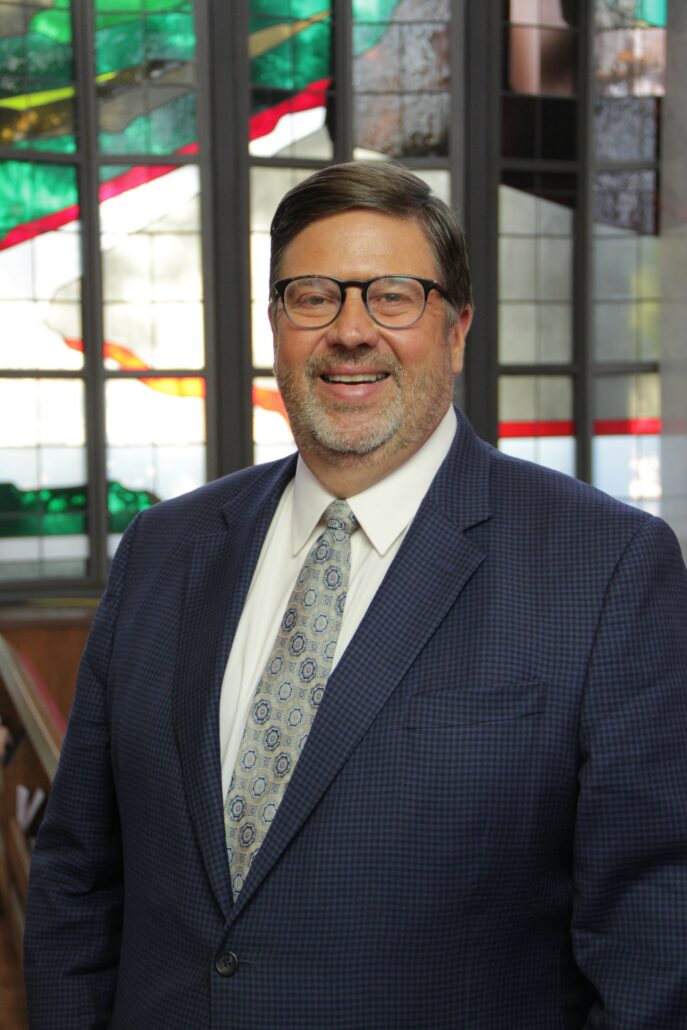 Distinguished Graduate Leads Diverse Community in Christ
"Loving all people into relationship with Jesus Christ."
That's Dr. Stan Copeland's mission in his role as the Senior Pastor of Lovers Lane United Methodist Church in Dallas, a position he has held since 1998.
Throughout his career, Dr. Copeland has worked to create an environment for people from all walks of life to experience the love of God and connect with fellow worshippers. That's why we are proud to welcome him back to Saint Paul School of Theology as our 2022 commencement speaker and Distinguished Graduate Award recipient. The award will be presented during our upcoming commencement ceremony on May 13, starting at 11 a.m. Central time. Participants may register for free online participation via Zoom. 
Dr. Copeland views the United Methodist Church as a life-giving and life-sustaining community of faith, intentionally global and others-oriented. He emphasizes the pursuit of justice and mercy, along with a commitment to ministry that includes all people as sisters and brothers in Christ. 
Under his leadership, Lovers Lane has blossomed as a vibrant and diverse congregation. Membership, worship, attendance and giving have all increased, and the church offers a number of ministries that enrich people's lives, both internally and in the broader community. 
Nurturing a Welcoming Faith Community
The vision statement for Lovers Lane reads, "One diverse community, passionately engaging the Bible, uplifting Jesus in worship and loving service and challenging in Love that which divides."
The church boasts one of the most diverse congregations in the Dallas area, including worshippers from 14 different African countries. A variety of ministries also serve the needs of deaf members, special needs families, LGBTQ persons, formerly incarcerated persons and those recovering from substance use disorders. 
During Dr. Copeland's tenure, Lovers Lane UMC has conducted four capital campaigns totaling over $50 million. The campaigns enabled the church to add new acreage and over 100,000 square feet of building space to serve the needs of its growing congregation. 
Sharing God's Love with the World
Dr. Copeland has also overseen the creation of several nonprofit corporations owned by Lovers Lane. Through these ministries, the church uplifts the lives of people in the surrounding community. Here are just a few of the ways Lovers Lane is sharing God's love with others:
Twelfth Step Ministry

has served over 900 addicted persons and is one of 75 recovery groups to meet at the Center for Spiritual Develoment on the Lovers Lane Campus.

Wesley Prep

is a school that serves children ages 6 months to 6th grade. It opened in the fall of 1998 and has an enrollment of around 450 students.

SEEDS Deaf Academy provides education and services for deaf children, youth and adults. Activities include Sunday School, ASL-signed worship services, special events and mission trips.
Honoring a Lifetime of Ministry
Dr. Copeland's ministry began when he preached his first sermon at the age of 16. Born and reared in the First United Methodist Church in Chandler, Texas, he was inspired by his parents and grandparents, who were also United Methodists. Others who influenced his faith journey include Doctors Tex Sample, Susan Vogel and William H. "Bill" Hinson, and Bishops Woodrow Heam, Rhymes Moncure and Janice Huey. 
In 1986, while serving as Associate Pastor at First United Methodist Church in Henderson, Texas, Dr. Copeland was diagnosed with leukemia, at the age of 26. Later that same year, he was appointed Associate Pastor of First United Methodist Church in Houston, where he received treatment at the world-renowned medical center in that city. Eventually, he was declared cured, with the help of experimental drug treatments and the prayers of his family, friends and congregation.
Dr. Copeland served as the Senior Pastor at Pollard United Methodist Church in Tyler Texas from 1993 to 1998. At Pollard, he oversaw a major building program and growth in membership, attendance and giving. 
His education includes a degree from Saint Paul School of Theology and has covered a wide range of subjects including Biblical preaching and teaching, pastoral care and political and social issues. Dr. Copeland has also earned a Doctor of Ministry from United Theological Seminary in Dayton, Ohio, a Bachelor of Arts in Sociology from Centenary College in Shreveport, Louisiana and an Associate of Arts in Sociology from Lon Morris College in Jacksonville, Texas. 
Dr. Copeland has dedicated his life to sharing the Good News and changing lives in a world full of need. We look forward to honoring him and to celebrating our 2022 graduating class at this year's commencement at Saint Paul. 
We invite you to register online to attend this free event via Zoom. If you have questions, please contact us at 913-253-5000.