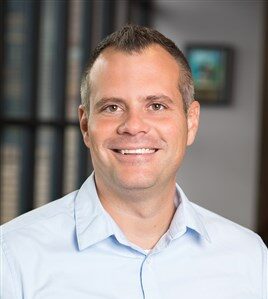 Saint Paul School of Theology Welcomes New Regional Director of Course of Study
Saint Paul School of Theology is excited to announce that Dr. Lucas Endicott is the new Regional Director of Course of Study effective March 22.
Most recently serving as Associate Director for the Office of Mission, Service and Justice at the Missouri Annual Conference and lecturing at Central Methodist University, Dr. Endicott brings to the Course of Study (COS) School a background in education with an Ed.D. in Educational Leadership and Administration as well as being an ordained elder in the United Methodist Church.
In his new role of Regional Director of Course of Study, he will work closely with the United Methodist General Board of Higher Education and Ministry to direct the Regional COS School at Saint Paul. In addition to managing the school, he will recruit students and teachers, plan course schedules, and continue to facilitate a program of excellence for our COS students.
Dr. Endicott will jump in with both feet as the Saint Paul Course of Study School prepares to open registration for its Summer 2021 term the first week of April. As we continue to navigate the current pandemic, this summer's schedule will be a virtual offering with all 20 classes split between 4 summer sessions, allowing students to take up to four courses during June thru August.  While physically distanced this past year, COS students have maintained a well-rounded educational experience with an agenda including scheduled class meet & greets, interactive forums, and Zoom classes.  "Dr. Endicott shares Saint Paul's commitment to theological education through Course of Study in service to the church.  He brings creative energy and a wealth of experience to this role.  I have no doubt that the Course of Study Regional School at Saint Paul will continue to thrive and grow with his leadership," says Dr. Jeanne Hoeft, Saint Paul Vice President for Academic Affairs and Dean.
For more information on the Saint Paul COS Regional School, call 913-253-5051 or visit spst.edu/cos.