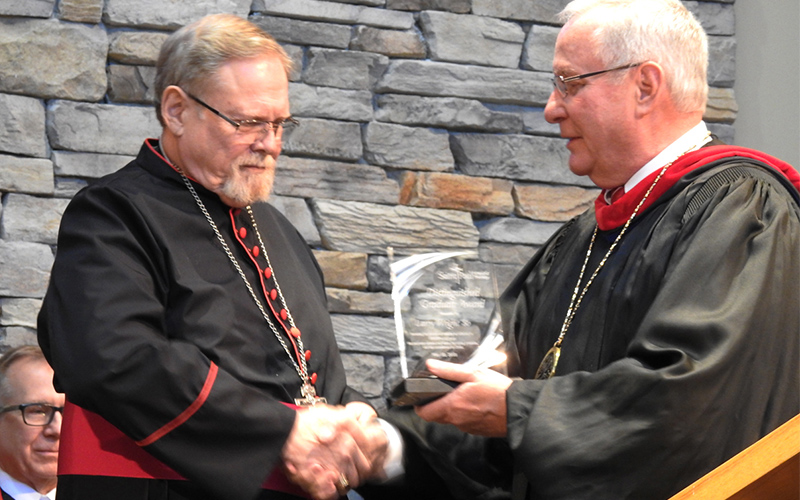 Rev. Larry Wright Receives 2018 Distinguished Graduate Award During Saint Paul Commencement
Saint Paul School of Theology recognized Rev. Larry Wright as the 2018 Distinguished Graduate during its May 2018 commencement, honoring more than three decades of ministry, prophetic witness and commitment to Christ.  
The Distinguished Graduate Award is presented annually at Saint Paul's May Commencement to an exemplary person in ministry and service who reflects the mission and values of the seminary.
Throughout his career, Rev. Wright has vividly demonstrated how Theology Comes Alive when it is applied to a lifetime of serving the greater good and using one's gifts to benefit others in a positive way.
He served as Director of Chaplain at Valley Hope Alcohol and Drug Treatment Center in Atchison, KS, from 1989 until his retirement in 2014. He first joined the center as a Staff Chaplain in 1984.
Driven by a passion for helping people find hope and a new way of life, Rev. Wright listened to over 14,000 "fifth steps" at Valley Hope, where multidisciplinary teams work together to treat the whole person — mind, body and spirit — and to meet the needs of each patient. Over 30,000 people received treatment during the same time span.
Before his time with Valley Hope, Rev. Wright served seven churches throughout Kansas and Missouri, helping to open two.
He served honorably in the U.S. Army during the Vietnam War, where he was promoted to an E5 Sergeant Rank. In addition, he also received the Army Commendation Medal, Good Conduct Medal and the National Defense Service Medal.
Rev. Wright's call to service in Christ has continued even after his retirement from Valley Hope. On July 8, 2015, he was incardinated into the North American Old Roman Catholic Church Archdiocese of California.
On October 1, 2017, he was elevated to Protonotary Apostolic Supernumerary with the title of Right Reverend Monsignor.
Rev. Wright was elevated to Auxiliary Bishop of the Province of the Ozarks on June 29, 2018, which is also the Feast Celebration of St. Peter and St. Paul.
After returning home from Vietnam, Rev. Wright earned his Bachelor of Science Degree from Baker University in 1977, followed by his MDiv degree from Saint Paul School of Theology in 1980. Rev. Wright also served as a student pastor during his time at Saint Paul.
Born and raised in the Rosedale area of Kansas City, Kansas, Rev. Wright and his wife, Gay, will celebrate their 50th wedding anniversary this year.