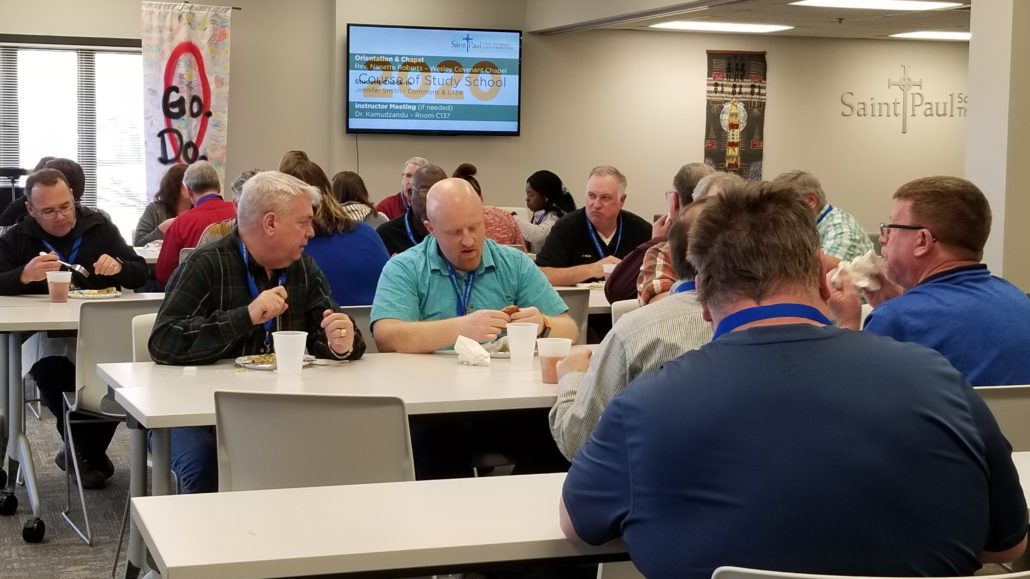 Online-Only Course of Study Registration Approaching
Fall 2020 registration for the Course of Study program begins in August. This year's fall session will be available online only.
The program is designed for licensed local pastors, those who are certified for ordained ministry and those under appointment in the United Methodist Church. 
Course of Study is a specialized continuing education program prescribed and developed by the General Board of Higher Education and Ministry. The Division of Ordained Ministry develops the curriculum, and courses are available through Saint Paul School of Theology and other approved seminaries.
After completing the registration process, students receive assigned pre-work to complete before classes begin. Intensive learning experiences include both foundational and functional courses that balance theory and application. 
The fall Course of Study class schedule will be published when registration opens in August. 
Preparing for Course of Study
The United Methodist Book of Discipline outlines the steps local pastors need to take before enrolling in the Course of Study program: 
Make initial contact with an elder or deacon in the local parish. 

Read

The Christian as Minister

, available from Cokesbury. 

Schedule a meeting with the district superintendent. 

Contact the district committee on ordained ministry for assistance with the inquiry and discernment process. 

Receive guidance and supervision from an assigned mentor. 

Receive initial appointment to a full- or part-time ministry setting. 
Full-time pastors must complete four Course of Study courses per calendar year, while part-time pastors are required to complete two courses per calendar year. 
Licensing School
The Course of Study includes a Licensing School followed by a Five-Year Basic Course of Study or a Part-Time Ministerial Leader Curriculum. 
Licensing School is the first step toward becoming a licensed local pastor. Candidates work with clergy mentors and receive instruction in pastoral competencies and Methodist tradition. The program includes a minimum of 80 contact hours with students and an assessment for basic skills. 
Basic Five-Year Course of Study
Following completion of Licensing School, full-time local pastors will enroll in the Basic Five-Year Course of Study at Saint Paul or other approved seminary.
Students complete the program in coordination with clergy mentors and Course of Study instructors. The curriculum includes year-round classroom and experiential learning activities. Courses are designed to meet the needs of full- and part-time pastors. 
Part-Time Ministerial Leader Curriculum
This option is intended for part-time local pastors who are entering ministry following Licensing School. It may be taken instead of the Basic Five-Year curriculum. The curriculum emphasizes practical theology and may also be appropriate for ministerial leaders as needed for Certified Lay Ministry. 
Advanced Course of Study
Licensed pastors who complete the Basic Course of Study have the option of enrolling in the Advanced Course of Study. This 32-hour masters level curriculum includes courses in United Methodist history, doctrine and polity. It enables the local pastor to continue the process toward achieving Provisional membership. 
At Saint Paul, students may meet the requirements for Advanced Course of Study by enrolling in the Master of Arts in Christian Ministry program. 
Students are encouraged to ask about educational grants available for Course of Study and Advanced Course of Study programs. If you have questions, please contact coordinator Jennifer Smith at jennifer.smith@spst.edu or 913-253-5051.