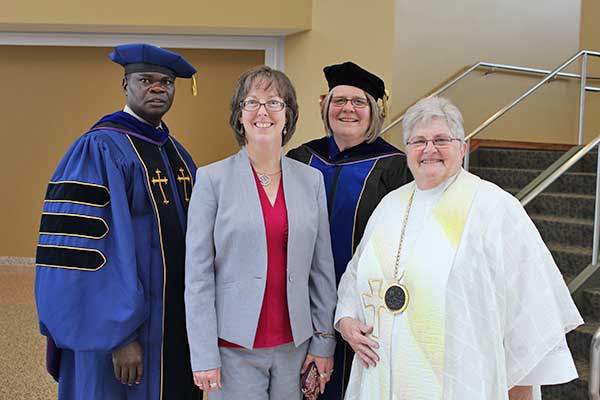 The 2015 Saint Paul Distinguished Graduate Award Presented to Rev. Meg Hegemann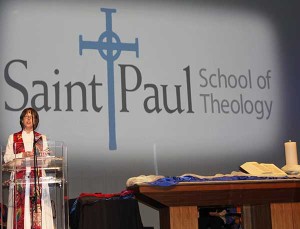 Rev. Meg Hegemann, MDiv 2010, is the 2015 Saint Paul School of Theology Distinguished Graduate Award Recipient.
The award was presented to her by Saint Paul President Rev. Sharon Howell at Commencement. "Saint Paul School of Theology is honored to present Meg Hegemann with the Distinguished Graduate Award with gratitude for her faithful, courageous and visionary leadership," she said.
President Howell went to Columbia, Missouri to spend the day with Meg and her congregation. She told of her experience when presenting the award. "When you drive into the parking lot at Wilkes Boulevard United Methodist Church in Columbia, Missouri, you'll be greeted by a volunteer staff member who is also one of the flock at Wilkes Boulevard and likely to be one of the homeless who've found a home there," explained Howell. "The church has a significant and bold ministry with those who are homeless."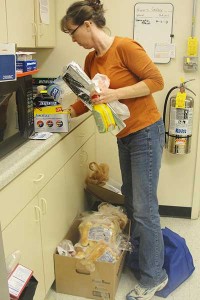 One of the ministries at Wilkes Boulevard is called Turning Point which promotes and restores dignity and hope among those who have experienced, or are currently homeless.
Those without a home have access to a number of unique services:
a physical mailing address
important document storage
showers and laundry facilities
temporary storage two bags (max) for up to 60 days
internet and telephone access
cell phone charging
employment and housing information
central location to meet with caseworkers, tutors, life coaches and mentors
support groups for those battling depression
prayer and bible study
encouragement and support in life's most difficult times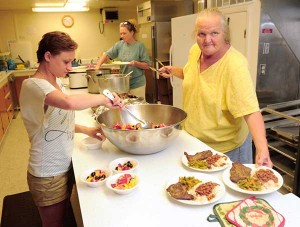 Meg's district superintendent says that one of her favorite stories is the day Meg was taking the Missouri conference staff on a tour of the many ministries under the roof of Wilkes Boulevard UMC. While they were standing in a room hearing about Turning Point, a woman entered the room waving a knife and screaming about how awful the church is." Meg said in her clear, strong voice, "we don't have weapons in this safe place, but tell me your story" as she reached out and took the knife.  Meg then carried on a conversation about what was going on in the woman's life.
Wilkes Boulevard is host to Loaves and Fishes program which is a free meal to whoever shows up every night. They plan for 70 people and frequently go over a 100 people!
Wilkes Boulevard is a small membership church with a large mission that is grounded in worship. Every worship rehearsal and every worship service begins with these words:
"No matter who you are or what you've done.  You are welcome here in the name of Christ."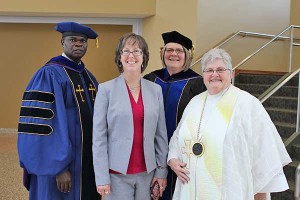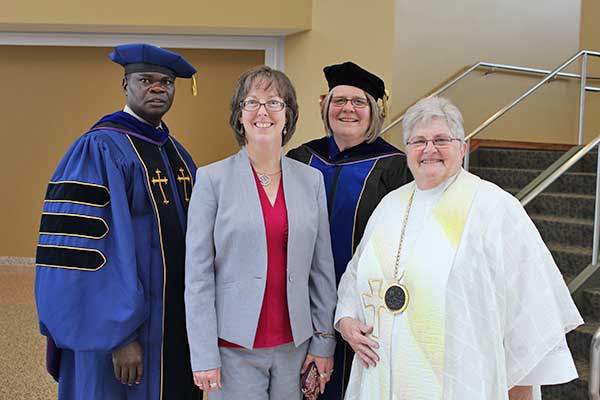 Bishop Schnase is Meg's bishop. He shared that after experiencing Easter morning worship at Wilkes Boulevard, his two college-age sons declared, "That's the church we would go to every Sunday if we were here."
"What kind of pastor does it take to understand the mission needs of the community and base the church's response to those needs in worship?" asked President Sharon Howell. "It takes someone who has an unbelievable strength of faith and love of God, so that taking a knife away because it's a designated safe place is just a matter-of-fact action. It takes someone who talks with passion about the education she experienced at Saint Paul: rigorous scholarship integrated with the practice of ministry."
We are proud of the wonderful things our graduates are doing. Meg is a great example of "practicing what you preach" and we're so happy to share the news that she is the 2015 Saint Paul School of Theology Distinguished Graduate!