eUpdate Letter from the President – 2/17/2015
Dear Saint Paul Community,
Last week was full to overflowing!
Holy Conversations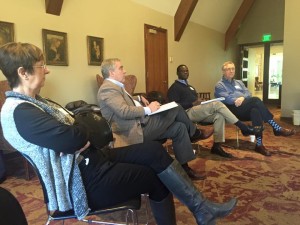 Holy Conversations continued with a gathering at Central United Methodist Church in Kansas City, Missouri. Rev. Dr. Jim Simpson, '77/'81 and his staff provided warm hospitality. Saint Paul faculty both current and retired were present: Dr. Israel Kamudzandu and Rev. Ed Kail. Israel has just returned from his fall semester research leave and reports he is thrilled to be back in the classroom with such amazing and energizing students.
Global AIDS Fund Committee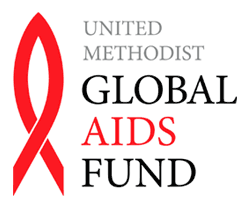 The Global AIDS Fund Committee: A program of the United Methodist Global Health  Initiative met at Trinity Community Church in Kansas City, KS. Several of the members of the committee attended worship, community meal and participated in an informative panel discussion at Saint Paul. On Thursday, February 12, they hosted an evening program at Trinity. Rev. Dr. Mark Holland '09 and his staff welcomed the Global AIDS Fund Committee (GAFC) and those of us who joined them for the evening.
The GAFC announced their new health initiative: Just Save One: Saving newborns from HIV. The cost of therapies to prevent the transmission of HIV from mother to infant is $10. As you read this eUpdate 900 babies are being born with HIV every 24 hours.
Renewing Relationships and Connections
It's impossible to attend a United Methodist event without making or renewing relationships and connections. Retired Bishop Fritz '75 and Etta Mae Mutti reminded us of their journey when two of their three sons were diagnosed and died from HIV/AIDS. I am moved to tears each time I am reminded of the fear and secrecy which paralyzed our understanding and compassion for so many years.
Schaunta James-Boyd, Executive Director of the E.C. Tyree Health & Dental Clinic at St. Mark United Methodist Church in Wichita, Kansas has been educating and promoting community health for over 12 years. She described several examples of educational moments used in the midst of worship at St. Mark.
Yvette Richards is the national president of United Methodist Women and an active member of St. James United Methodist Church in Kansas City, Missouri. When she isn't traveling the world on behalf of United Methodist Women (UMW), she works for State Farm. She announced a new collaboration between UMW and United Methodist Committee of Relief (UMCOR) to reduce the mother-to-child transmission of HIV with effective interventions. Yvette had her own cheering section with the table of UMW members from St. James.
Annual Conferences
The advancement and recruitment staff of Saint Paul have selected the Annual Conference meetings where we will be in May and June: Oklahoma, Missouri, Iowa, Louisiana, Great Plains, Great Rivers, Northwest Texas, Arkansas and the Pacific Northwest. Announcements will follow about the Saint Paul meal and meetings for alums, students, and friends at each annual conference session. If you are reading this and would like for us to be in your annual conference next year, please let me know.
I offer prayers as we prepare for Ash Wednesday and the season of Lent.
On the journey with you,

Rev. H. Sharon Howell, President
Saint Paul School of Theology
sharon.howell@spst.edu