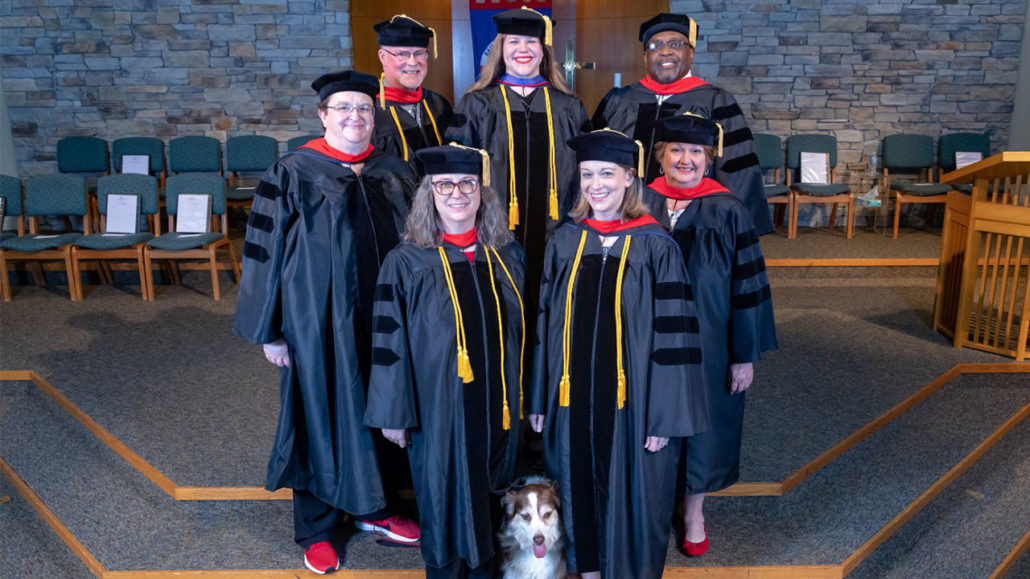 Learn About Doctor of Ministry Degree at Explore Saint Paul
"Our church is in a state of 'unsettled' and will be for the foreseeable future."
That's what drew first-year student Angie McCarty to enroll in the Doctor of Ministry: Spiritual Leadership in Unsettled Times, at Saint Paul School of Theology. Our 30-hour curriculum prepares ministers to lead and share the Good News in a world of polarization and change.
Is God calling you to pursue a more advanced level of ministry? If so, we invite you to get an up-close look at the DMin program at our upcoming Explore Saint Paul event. It takes place on February 25 on both our Kansas City and Oklahoma City campuses. 
You'll have the opportunity to worship with us, visit classes and get acquainted with students, faculty and staff. For McCarty, interaction with fellow students has been one of the highlights of her Saint Paul experience. "The most beneficial part of the program so far is the community that my cohort developed during our first week together," she says. "I'm thankful to be on this journey with them."
Individuals who are discerning a call are encouraged to attend, along with those who have already applied for admission to Saint Paul. To show our appreciation, application fees will be waived for all Explore Saint Paul attendees.
With courses available in online and hybrid formats, the DMin program encourages deeper reflection on theology, identity and practice. "The way the program is structured makes it accessible to people working full time in ministry," McCarty says. "The projects are coordinated with our current ministry setting, and the professors go over and above accommodating our special needs."
Students are prepared for social justice leadership for churches, communities and beyond. The DMin degree is offered in partnership with United Methodist Church of the Resurrection, MORE2 and Gamaliel.
If you are interested in pursuing your Doctor of Ministry degree, you can apply online. The deadline for Fall 2020 admission is April 1.
To reserve your spot at Explore Saint Paul, or if you have questions, call us at 913-725-8289 or send an email to admiss@spst.edu.