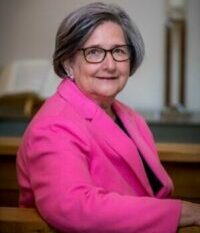 Dr Jeanne Hoeft Will Retire As Vice President for Academic Affairs and Dean
From the desk of President Neil Blair:
With mixed emotions, I write to report that Dr Jeanne Hoeft, Vice President for Academic Affairs and Dean, has announced her decision to retire from her administrative duties at the conclusion of the 2021 – 2022 academic year. Her absence from the Dean's Office will be keenly felt by all of us.
During her time as our academic vice president, Dr. Hoeft has compiled a remarkable list of accomplishments. Her leadership proved decisive in guiding Saint Paul through its reaffirmation efforts with the Association of Theological Schools and the Higher Learning Commission, the two accrediting agencies most important to Saint Paul's work. Moreover, her efforts with our faculty resulted in an academic evaluation and assessment model that stresses ongoing improvement in all our degree programs.
Dr. Hoeft joined our faculty in 2001, with a focus on pastoral theology and pastoral care that continues to offer a critical component in the education of our students. After having served in a variety of faculty leadership roles, Dr. Hoeft assumed her current duties as Vice President for Academic Affairs and Dean in 2016. Although she will relinquish this position at the end of the Spring 2022 semester, she will return to the classroom in the Fall 2022.
A search committee led by Dr. Jim Brandt is already working to recruit Dr. Hoeft's successor. A position announcement for the search will soon appear in a variety of publications and on our website. Our goal is to name our new dean in March 2022.
Please join me in thanking Dr. Hoeft for her exemplary record of service and accomplishment as our Vice President for Academic Affairs and Dean over these last five years.