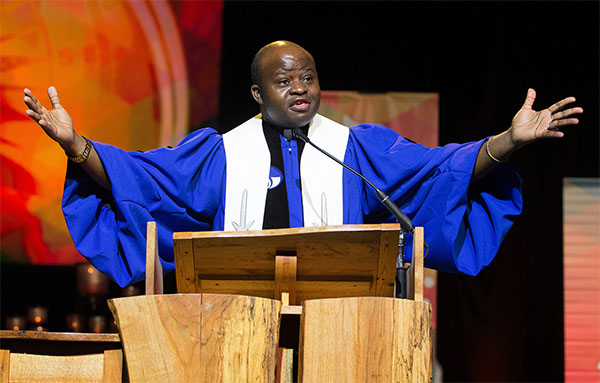 Distinguished Graduate Award: Bishop Mande Muyombo
President Neil Blair presented the Distinguished Graduate Award at the 2017 Saint Paul School of Theology Commencement Ceremony to Bishop Mande Muyombo. Muyombo received his Master of Divinity degree with an Ethics/Church and Society Concentration in 2010 and his Doctor of Ministry as part of the Children and Poverty in a Globalized Economy cohort in 2015. 
"Bishop Muyombo's praxis thesis, Affirming Human Dignity of Former Child Combatants: A Collaborative Ministry Model Between Kamina-Ville United Methodist Church and Kamina Methodist University, exemplifies the value of collaborative relationships," said Dr. Angela Sims, Saint Paul Academic Dean and Associate Professor of Ethics and Black Church Studies. "Brother Guy's work on behalf and with child soldiers and the communities in which they reside is a reminder that we are called to affirm the humanity in all of God's children."
Mande Muyombo worked as president of Kamina Methodist University. He then serve as executive secretary for Africa at United Methodist General Board of Global Ministries. Muyombo was later promoted to executive director for Global Mission Connections as part of United Methodist Board of Global Ministries.
Bishop Muyombo was elected to the North Katanga Episcopacy in March. At 44, he is the youngest bishop in the Congo Central Conference.
"I am committed to working towards the unity of The United Methodist Church because I am a product of the UMC connection," said Muyombo.