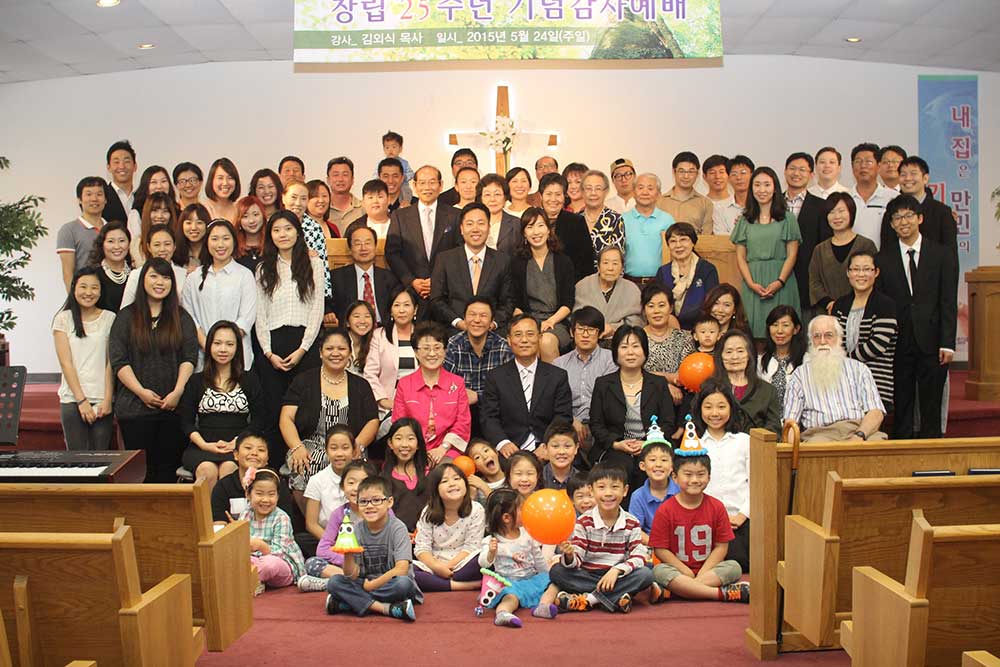 Church Renewal: Rev. David Kim Leads Congregation to New Growth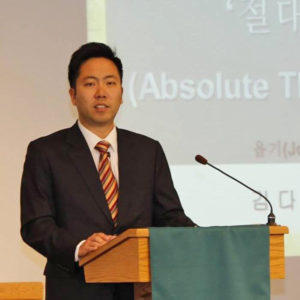 When Rev. David Kim received his appointment  at Central Korean United Methodist Church in Overland Park in 2013, his congregation was small. With a congregation of only sixteen members, Pastor Kim knew that church renewal was only possible with God. "At that time, I spent most of my time in prayer," he said.
David Kim interviewed and was chosen to be one of seven Resurrection Scholars when he attended Saint Paul School of Theology. The program had a three-pronged approach with a Church Leadership class taught by a seminary professor, an internship/practical application portion at Church of the Resurrection, and a small group reflection time with a pastoral leader to discuss pastoral issues that they had encountered. "The Resurrection Scholars program was designed to make faithful leaders to change the world," he said. "I was able to learn many leadership skills and observe Rev. Adam Hamilton and their leadership team as I developed a pastoral mind."
Reverend Kim learned that it was not enough to be satisfied with the status quo. He assessed the needs of those currently in the church but also in the rest of the area. He soon realized that not all immigrant families were available on Sundays for worship. Many of the parents had to work.
David began a Prayer Meeting on Friday evenings at 9:00 p.m. At first there was some push-back. Friday evenings are generally considered a "fun" night. "God gives us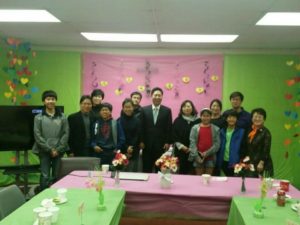 his best, why don't we give Him some of our best time as well?" Pastor Kim explained. He also began early morning prayer services at 5:30 a.m. Monday-Friday.
As the youth population increased he implemented a contemporary service in English for second generation Korean youth to enjoy. Pastor Kim also began offering discipleship classes twice a week to challenge his congregation. He started a podcast for former sermons to be heard.
Slowly, the word got out about new church practices.
Pastor Kim started implementing programs to help with hunger and other social services. "Our congregation has been praying not only for this church but also for the entire community in Kansas City. We want to serve people in need," he said. The congregation believes in serving others first. In 2014, the mission team renovated a United Methodist Church's children's room in Kansas City before renovating their own children's classroom. This year, the congregation pledged to send money every month to support an Indian missionary and his ministry in the slums of Mumba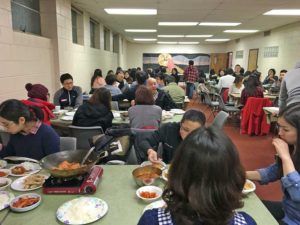 i, India.
Central Korean UMC now has 110 people in attendance. They have an orchestra and church choir. There is an interpreter and translating devices so that guests can hear the Korean language sermon in English. Sounds of happy children can be heard from the Sunday School rooms. Congregation members can smell the sweet smell of kimchi when they enter the building every Sunday. All are encouraged to stay for fellowship and a shared meal after worship.
"Church leadership is not easy," said David Kim. "I have found that you will not always be liked." Pastor Kim explains that he prays daily for God's guidance as he works to bring about change and church renewal.