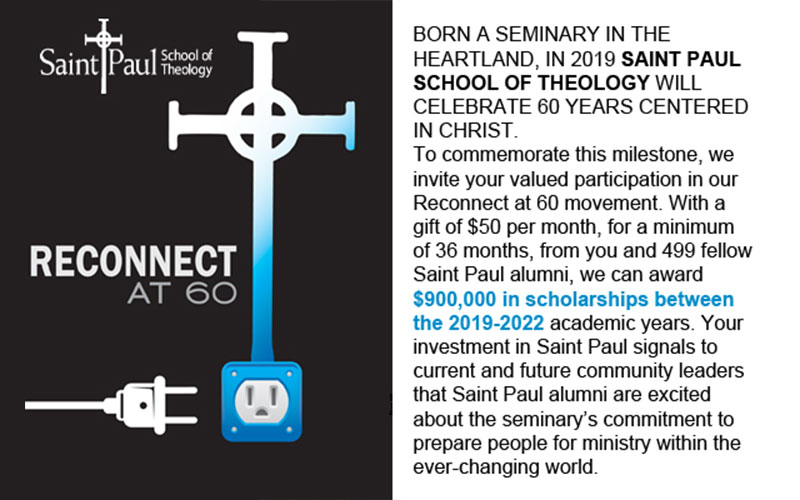 Alumni Engagement Offers Many Ways to Reconnect with Saint Paul
Even after you complete your theology coursework and enter a career in ministry or similar field, you will remain a valued member of the Saint Paul community.
That's why we offer so many ways for our outstanding alumni to reconnect and help to pave the way for current and future students who are traveling the same path on their own faith journeys.
Here are just a few great ways to continue sharing in the Saint Paul experience after graduation:
Keep in touch. Have a new job? New address? You can update your contact information, current church or business and other information

online

.

Tell us your story. Serving others in Christ brings with it many unique stories of growth, blessings, perseverance and accomplishment for our alumni. We invite you to share your own latest news and photos on the Saint Paul

website

.

Get social. You can find

Saint Paul

and connect with

fellow alums

on Facebook

, or follow us on

Twitter

.

Stay current. Subscribe to our newsletter

The Connection

to receive up-to-date news about the latest happenings and events at Saint Paul, and read about the accomplishments of our outstanding students, faculty and fellow alumni.

You can also learn more about upcoming events by visiting our

calendar

.

Get Saint Paul in your inbox by signing up for

email updates

.

Join Saint Paul Ambassadors.

The Ambassadors play an important role in strengthening relationships on behalf of Saint Paul, expanding our pool of prospective students and increasing applicants. As an Ambassador, you get to identify and engage prospective students by sharing your own story about why you chose Saint Paul and your experiences at seminary. You can reach out to prospects through one-on-one visits, phone calls or emails. You'll be provided with a contact card to complete and return to the Admissions Office within 3-5 days of contact, either online or by postal mail.




Give back. In honor of Saint Paul's 60th Anniversary, all alumni are invited to

Reconnect@60

by taking part in this very special 3-year campaign in support of the men and women from around the world who continue to answer God's call to a life of innovative, creative ministry.
These are just a few of the many ways Theology Comes Alive for alumni of Saint Paul School of Theology. Got a story to share? Let us hear from you!
You can reach out to Melissa Pearce, Director of Alumni and Partner Relationships at alumrelations@spst.edu.