Distinguished Graduate Award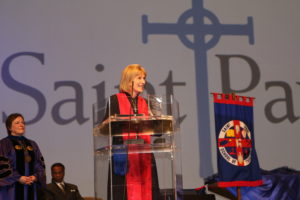 The recipient of the Saint Paul School of Theology Distinguished Graduate Award shall be an exemplary person in ministry and service who:
Reflects the mission of the seminary:
Centered in Christ and rooted in the Wesleyan tradition,
Saint Paul School of Theology is a seminary of intentional relationships
committed to the formation of people for innovative, creative ministry
through rigorous academic life; the exploration of Scripture,
tradition, and ministry practices; and diverse, contextual experience.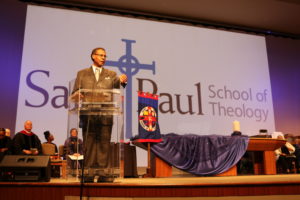 Mirrors the values of the seminary:
Christ-centered, prophetic, and evangelistic
Formed in justice, integrity, and faithful experience
Contextual, diverse, relevant, and inclusive
Committed to:

the integration of intellectual excellence and faith practice
the creation of community in the challenges of emergent contemporary contexts
the promotion of peace and justice through theological dialogue, and
the use of multiple platforms and approaches to ministry
The Distinguished Graduate Award presentation is made at the Saint Paul Commencement in May.
Please make nominations by January 31st. 
Thank you!