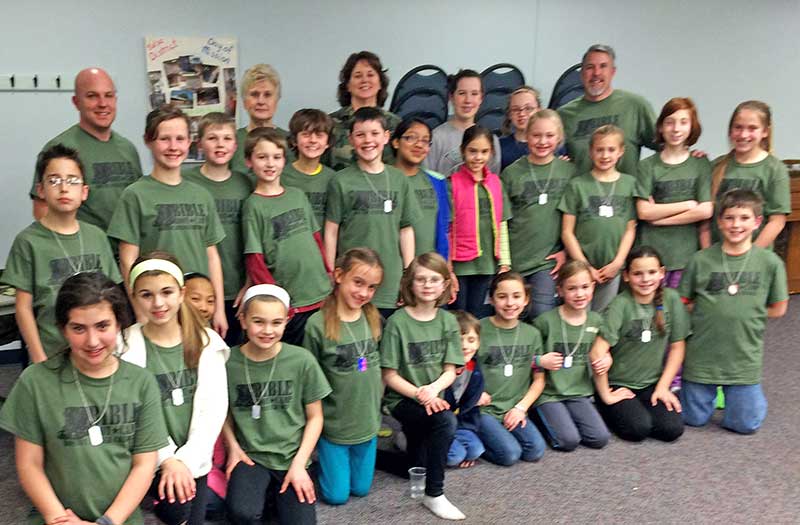 Saint Paul Alum EvaMarie Campbell Making a Difference in How Children Learn the Bible
Stories of Saint Paul students continue to inspire us and fill us with hope.
EvaMarie Herndon Campbell's story invites us to think about working with young lives. She has dedicated her ministry to relevant children's ministry that enriches and incorporates the entire congregation.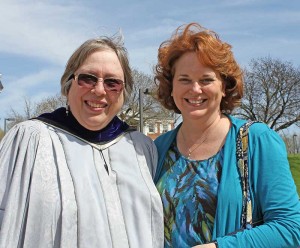 EvaMarie has served for 24 years at Boston Avenue United Methodist Church in Tulsa, Oklahoma, in the children's ministry area. She strives to enrich the faith of every child. Campbell is always open to new ways to engage children in stories of faith and credits retired Saint Paul Christian Education Professor Dr. Sondra Matthaei for instilling her commitment to innovative pedagogy.  (The picture on the right has Dr. Matthaei on the left and EvaMarie on the right.)
On a typical Sunday, you will see children cooking in a room set up like a 1950's diner, playing games in a room set up to look like a city park, performing science experiments in a room with a life size skeleton and fish tank or watching a movie in the movie theater with plush seats, a popcorn machine and surround sound. Each month a new story from the Bible is introduced. The children then use all of their senses as they learn the story in the various settings. By the end of the month the children know the Bible story inside out.
"I want the children to experience the stories in fresh and inviting ways that will integrate the meaning into their daily lives," said EvaMarie. The energy and enthusiasm of the teachers and shepherd helpers also add to the positive learning environment.
Since moving from the single room, grade level concept to the rotational model, EvaMarie has heard marks of success. "I've received feedback from our teenage Youth Leaders that the incoming youth are able to articulate the meaning of Bible verses and stories and they are living out what they learned. The growth in their formation has become evident." As the children mature they get to celebrate "rites of passage" events which provide additional learning opportunities. The children look forward to moving into upper elementary as third graders are presented Bibles and get to stay for a lock-in and 4th and 5th graders experience Bible Boot Camp, Wednesday Night LIFE Group (Living Faith Everyday) and Blessing of the Backpacks.
EvaMarie believes that "a thriving ministry takes everyone to be engaged and involved in the process".
As a result, she established a 50 person Children's Council with clear goals and expectations. The Council sponsors many all-church events for families such as the Advent Workshop, Downtown Hoedown, Lenten Workshop, Father-Daughter and Mother-Son Dances, and Easter Egg Hunts. As caring, trained leaders, the Children's Council becomes the "eyes and ears" for Campbell. Each Adult Sunday School Class has a representative on the Children's Council which has had a positive impact on adults being informed. She uses email blasts, texts, tweets, posters, postcards, flyers and pulpit announcements to keep the congregation informed and engaged. This multi-channel communication helps her to maintain a high volunteer presence at events.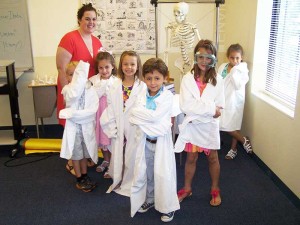 EvaMarie understands that inter-generational ministry is vital for the perpetual growth of the church. She is known nationally for establishing bold connections with the United Methodist Women's (UMW) groups. The fourth and fifth grade girls are paired with an adult UMW Circle. They meet once a month to learn about the work of the UMW, the reading and mission programs, and the writings of Response magazine. The Hope Circles have been active for many years and have proven very successful. "Because we started our girls out in UMW Circles they understand the importance of the groups. We now have established two adult groups of young women," she said.
EvaMarie has had the privilege of watching children grow. She has assisted with their weddings and later their children's baptisms. She enjoys having the new parents active as the second generation in children's ministry. "It is always a thrill to my heart when someone I have guided as a child or an intern goes into full-time Christian ministry," said EvaMarie. "It is a blessing to be an active part of making disciples for Jesus Christ for the transformation of the world!"
It's awesome to see what our alums are doing in the real world!