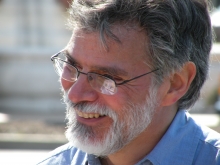 Saint Paul School of Theology will host the 2017 Wayne E. Drake Peace Lecture entitled, Lessons Learned: Reflections on 30 Years of Peacemaking with community organizer and peace award recipient Ira Harritt on Tuesday, October 17 at Church of the Resurrection, Wesley Chapel, 13720 Roe Ave. Leawood, KS 66224. The lecture begins at 6:30 p.m. and will conclude with a Q & A time. It is free and open to the public. The Wayne E. Drake Peace Lecture will also be livestreamed at www.spst.edu/video.
Harritt has served as the Kansas City program coordinator for the American Friends Service Committee (AFSC), a Quaker-based peace and justice organization since 1986. In this capacity, he planned campaigns and actions on social and economic justice, opposition to war, promotion of peace, youth empowerment and conflict resolution.
Peaceworks and Cultural Crossroads awarded Harritt for his outstanding service in the cause of peace. Through various experiences he has organized numerous exhibits, forums and actions on the economic and human cost of war, economic inequity, the Iraqi and Syrian refugee crisis, the interconnectedness of social and economic issues, and the legacy of Dr. Martin Luther King, Jr.
Ira Harritt has served as the Sufi Faith Director on the Greater Kansas City Interfaith Council since 2011. He has brought diverse faith, racial and community groups together to support peace and justice campaigns and is currently the coordinator of the GKC Justice Coalition, which had brought together dozens of activists from numerous issue silos to collaborate and share their knowledge and experience.