The seminary's past coincided with the present at the 54th Commencement Convocation in Leawood, KS.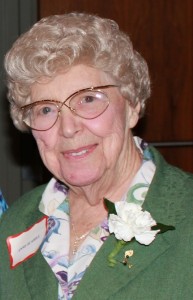 Anne Scahill, along with a busload of other resident's from the Kingswood United Methodist Senior Living Community, proudly attended the commencement ceremony to support Saint Paul graduate Ryan Murray.  Ryan acted as Assistant Pastor and Bible Study leader for the residents of Kingswood.
Anne was the first secretary of Saint Paul School of Theology and distinctly remembers preparing for the 1st Commencement Convocation. The first Commencement Luncheon was held on June 11, 1962 in the conference room of the Brookside Hotel-currently Crestwood Condominiums. (It was the students' residence for the Cherry Street Campus at the time.)
Anne continues to be dedicated to the life of the seminary.
She recalls working as a member of the seminary staff even before there were students. She noted a favorite saying that she continue to use in her correspondence:
"God does not call the prepared. He prepares the called." Anonymous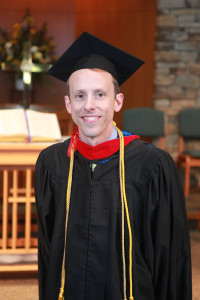 It was fun to see Anne, who has been involved with Saint Paul since the beginning, showing up to celebrate the Saint Paul Commencement once again for Ryan's graduation.  Ryan graduated with honors with a Master of Divinity degree.
And it's heartwarming to think about the fact that Ryan has been leading Anne and other residents of Kingswood in prayer and bible study as he studied to become a deacon.
It was a visible reminder of the importance of relationship as we grow in our faith.
http://www.spst.edu/wp-content/uploads/2015/05/Anne-Scahill-Photo.jpg
671
431
Saint Paul School of Theology
/wp-content/uploads/2014/11/SaintPaulLogoWhitePadded.png
Saint Paul School of Theology
2015-06-11 14:43:06
2015-06-17 22:35:44
Anne Scahill - Supporting Graduates Since 1962